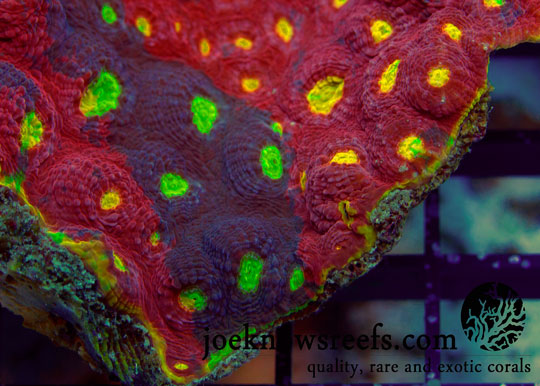 This stunning newly released coral comes to us from Joe Knows Reefs.  This unique Echinophyllia species features multi-colored eyes and a multi-colored rim.  You will notice that where the body is red, the eyes and the rim are orange and where the body is blue, the eyes and rim are green.  This type of color pattern is commonly referred to as a "rainbow chalice".  Joey Nichols tells us he likes to target feed this coral with Fauna Marin LPS Pellets and Reef Pearls 500-1000 micron LPS pellet food.
Area of origin:  Indo Pacific
Species:  Echinophyllia sp.
Light:  low ~100-150 par
Flow:  low indirect
Joe Knows Reefs currently has 2 frags of this on his site as of 10/15/2015 but they may be gone by the time this article is published.  The larger frag is $429.99 and the smaller one is $299.99.  If you are a collector of high end chalices then one of these might need to go into your collection.  As you can see from the picture above, Joey has a nice sized colony of this coral but no word on when he might be fragging the main colony again.