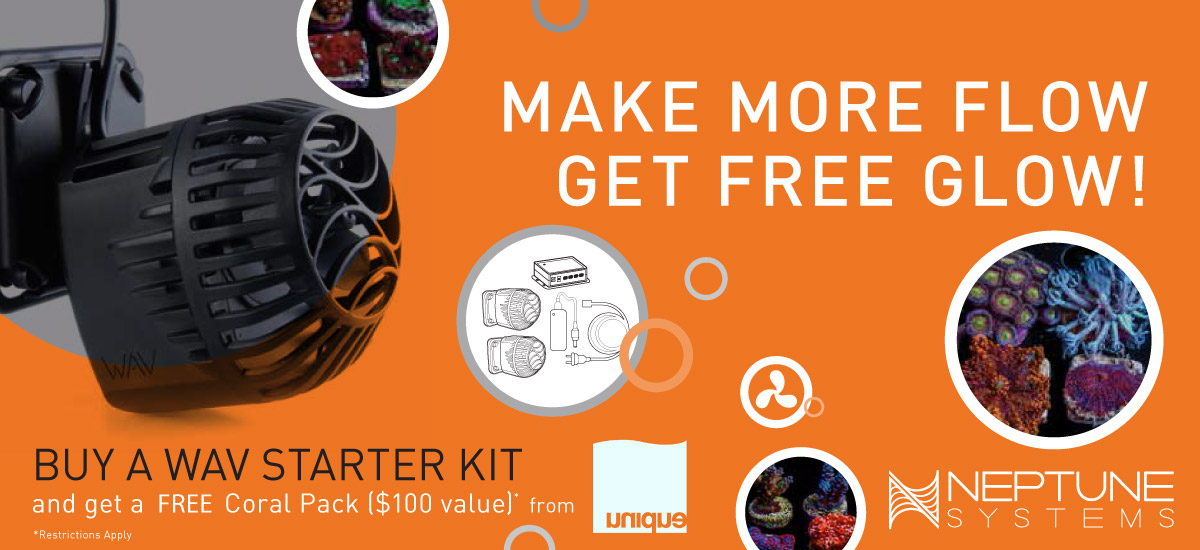 At AquaNerd we are always searching for a great value or free deal for our readers and subscribers.  We are happy to announce a collaboration between two well-known leaders in their prospective fields to bring you a valuable offer for your reef tank.
Neptune Systems and Unique Corals have teamed up together to offer a unique promo for customers that purchase a Neptune Systems Wav Starter Kit.
For a limited time, when you purchase the WAV Starter Kit from an authorized dealer in the USA, you can get a great coral pack similar to one of these three ($100 value) from Unique Corals absolutely FREE.
Just follow these steps:
P

urchase a WAV Starter Kit (WSK) in the USA from a Neptune Systems Authorized Reseller.

Fill out the form below including the upload of the images of your proofs of purchase.

Upon verification, Neptune Systems will send you an electronic gift certificate code good for one of three pre-selected coral packs from Unique Corals (

www.uniquecorals.com

)
Select one of the packs, check out, and pay the flat Fed Ex Priority Overnight Rate ($19.00)
Restrictions:
This offer has no cash value.

Offer valid in the Continental USA only.

Offer value can only be used toward pre-selected coral packs and cannot be used as credit toward any other purchase on the

uniquecorals.com

web site.
Corals shown here, on a promotional card, or the Unique Corals website are for illustrative purposes only, and are simply representative of the types of corals you can expect to receive in these packs.

No guarantee is made by Neptune Systems or Unique Corals to the condition of the coral when they are received.

Neptune Systems is the sole determiner of the validity of any applications for redemption under this offer.

Offer valid for purchases of WAV Starter Kit from an authorized USA reseller between 2/1/2016 and 6/30/2016 – no applications for redemption will be accepted after this date.