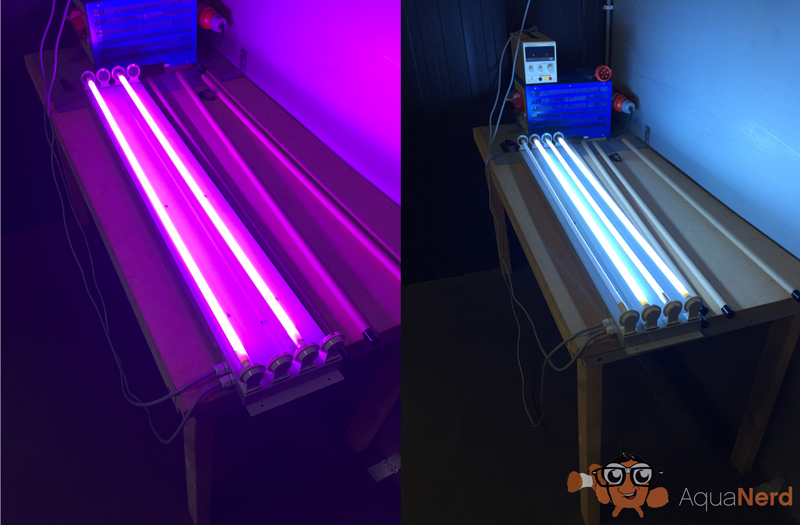 The new E5 LED bulbs from Euroquatics will be on display at Reef-A-Palooza this weekend in Orlando, FL.  The guys at Euroquatics were kind enough to let us leak this information out ahead of the show.
Above are photos of the new E5 LED Marine Pink and Blue Daylight bulbs.  The Marine Pink E5 appears to be similar in color to the ATI PurplePlus, Giesemann Super Purple or the D-D Giesemann AquaPink while the E5 Blue Daylight resembles Giesemann AquaBlue Azure or D-D Actinic Plus + or ATI Coral Plus.  When these new E5 lamps hit the market there will be 6 different colors available from Euroquatics and the current color options include the Blue Pop, Daylight, Warm Daylight and Cool Daylight.  The lamps are a direct replacement for T5 bulbs and they can be used within a T5 fixture or T5 retro setup without the need for any modifications to your T5 fixture.  Each color option is available in standard 24″, 36″, 48″ and 60″ lengths.
If you are attending RAP Orlando this weekend then please stop by the Euroquatics booth (301 on the floorplan) to check out these new E5 lights in action.  The Blue Pop and the other three Daylight models will be available for purchase in booth 610.
Click here to learn more about Euroquatics.