Here's some eye candy for you.  Recently, featured as the Featured Tank on the Zeovit Forum Wesley Vrsswijk's SPS and LPS aquarium is a a setup most any reef aquarist would be proud of.  The photos are little oversaturated but you can certainly see that the corals and fish are very healthy. Congratulations to Wesley on his beautiful setup.  Wesley shared a list of all the equipment parameters, photo period for his 264 gallon (total water volume) aquarium.  For more photos drop over to the Zeovit forum.
AQUARIUM DATA

Display Tank: (dimensions & size in litres/gallons)
215cm x 65cmx 95cm 800L (211 gallons)
Sump: (dimensions & size in liters/gallons)
145x55x45 200L (53 gallons)
Total Volume:1000l (264 gallons)
LIGHTING
Lighting Setup:  ATI hybrid 8×54 T5 watt with 3×75 watt LED Fixture and an ATI hybrid 8×39 t5 watt and 2×75 watt led with this combo in each fixture:
3 x Kz superblue, 1 x ATI Actinic, 2 x KZ New Gen 1 x KZ Fiji Purple
The photo period for both fixtures is set to 8 hours per day.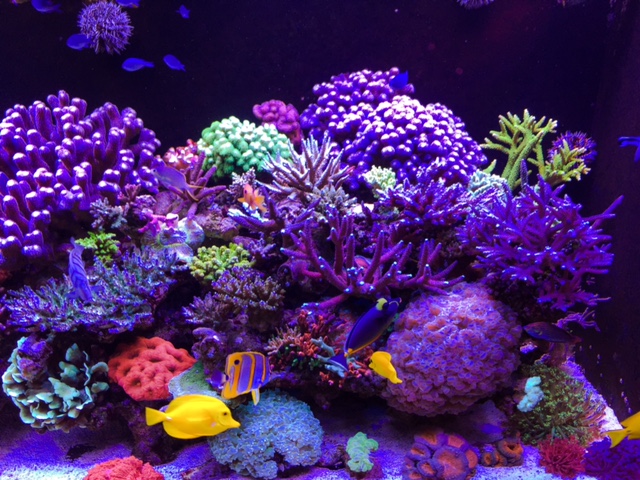 FILTRATION & ADDITIVES
ZEOvit Products: 24/7 carbon, 2kg Zeolith Rock
200ml Rowaphos
Cheato algea filter
Monday 2ml zeostart 9 drops zeobak 5 drops zeofood
Tuesday 2ml Zeostart 3 9 drops Biomate 10ml coral snow
Wednesday 2ml zeostart 9 drops Sponge Power 9 drops coral vitalizer.
Thursday 2ml zeostart 9 drops zeobak 5 drops zeofood
Friday 2ml Zeostart 3 9 drops biomate 10ml coralsnow
Saturday 2ml Zeostart 9 drops Coral Vitalizer. 10ml B Balance
Sunday 2ml zeostart 9 drops coral vitalizer.
Carbon every 2 weeks 0.5L
Zeolite 2L every 8 weeks
Every day Triton Labs 1ml Mn 1ml Fe (iron) 1ml Iodine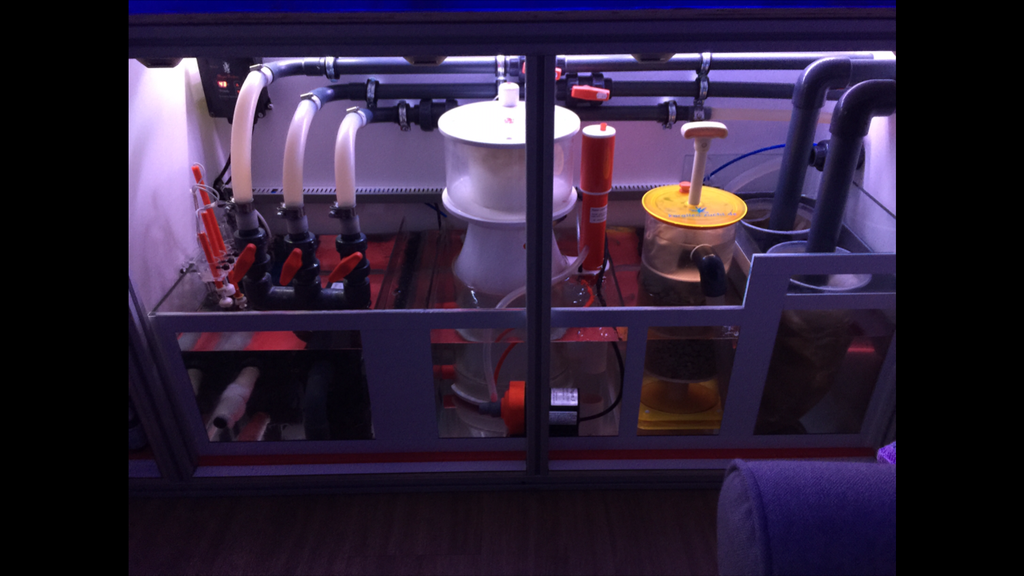 System Parameters
Alkalinity: 7
Calcium: 440
pH: 7.8
Magnesium: 1350
Temperature: 25.3 C (77.54 F)
Po4 (Phosphate): 0.02
No3 (Nitrate): 0.5
Salinity: 1.0235
Density: 34.8
EQUIPMENT & MAINTENANCE
Ca / KH addition: dastaco xtrema 2 calcium reactor.
Reverse Osmosis: osmopure 100ge de luxe with 2x di.
Water Circulation:  Red dragon 14000
3 x Neptune Systems WAV Pumps
Cooling System:  Home airco.
ZEOvit Reactor: Zeolith Reactor Medium
Protein Skimmer:  Bubble King Supermarin 250 with RD3 Pump
Other equipment: Neptune Apex full option, Ams Integra, Sanders Ozone C200, D&D UVC 36w, powerfilter tunze