hi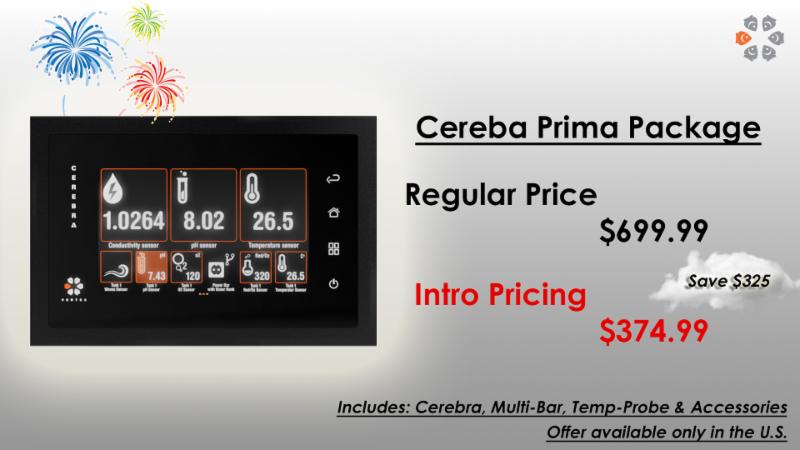 The new Vertex Cerebra aquarium controller allows you to monitor and control your aquarium with ease from it's 5.5" touch screen display.  You can finally say goodbye to programing/coding language.  The Vertex Cerebra is an Android based platform which allows you to control lighting, dosing, pumps and much more.  The Cerebra Prima package includes the touch screen controller, a 6 outlet power-bar and an LED status temperature probe and is expandable with its many accessories and options.
Vertex decided early in the concept and development phase to make the platform cloud-based using the Android OS.  The open source platform allows for greater control and creativity.  Android OS allows full customization without having to learn time-consuming coding.  Users will be able to browse and use the internet directly from the TSD and also store their data online.
 Prima Contents:
5.5" Cerebra Controller Head Unit with Full Color Display
Cerebra Multi-Bar (6 outlets)
Smart-Temp Sensor
USB A-B Cable
Cloud Registration code
Black Stylus
Powersupply for head unit
Cerebra Controller:
Dimensions – 7.25″ L x 5.25″ W x 4.875″ H
The 5.5" full color display has a built in touch screen display (TSD) which allows the user to move between menus via your internet browser. The home page display is fully customizable for individual display preferences.  While viewing the TSD, you can easily view parameters such as pH, Temp, sensor status as well as other important data. Changes can be easily made directly from the controllers browser with the touch of a finger through the Head Unit or through a computer, table or phone.
Multi-Bar Powerbar
Dimensions – 20″ L x 4″ W x 2.5″ H
The Multi-Bar comes with 6 controllable outlets which are controlled by relays.  Each outlet is individually controlled by HALL sensors with LED Status indicators.  The indicators provide an extra level of peace of mind by allowing the user to know the status of each outlet.  Each Multi-Bar includes limitless expansion for probes and expansion ports without the need for interface modules.
 

2 x pH Ports

1 x ORP (redox) Port

1 x Conductivity Port

1 x Dissolved Oxygen Port

1 x Par Sensor Port

2 x Optical or mechanical Level Sensor Ports

2 x 0-10v Channels

6 Ft Power cord

6 Relayed Controlled Outlets

16A Power Rating

Individual LED Status Indicators

Programmable Backup Emergency Power State
Smart-Temp Probe
The Vertex Smart-Temp probe was designed from the ground up using high quality materials to create a superior product.  As mentioned above, the Smart-Temp probe features built-in LED status indicators keeping the user informed at all times of any changes in temperature status.  The probe flashes red when the temperature is out of range and it remains solid green when the temperature is within its normal range setting.
For a limited time Vertex is offering it's Prima Controller at the special introductory price of $699.99 $374.99, a $325.00 savings off of the regular price.  For more information on the Vertex Cerebra you can visit the Vertex Facebook page.