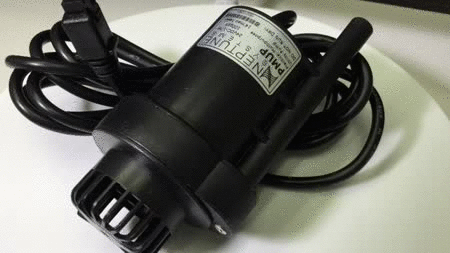 Nope this is not a typo, The new PMUP ,Practical Multi Purpose Utility Pump, is Neptune Systems latest product announcement.  The PMUP is designed to interface with the Neptune Apex controllers as an Auto-Top Off pump, Calcium or Carbon reactor pump.  The maximum head pressure is 14 feet and the max GPH is 100 GPH. The Neptune site is states that it can be used with Biopellets. Larger Biopellet reactors require a much greater GPH, making this a new pump alternative for smaller reactors.  At a diminutive 4.58″ x 2.24″ size, this pump can fit nicely into most jug openings or ATO reservoirs.
The PMUP can easily be connected in 2 fashions.  One option is to simply stretch silicon tubing over the intake side of the PMUP.  The other is to add a standard 3/8″ push-fit connector (not included) as shown in the picture below.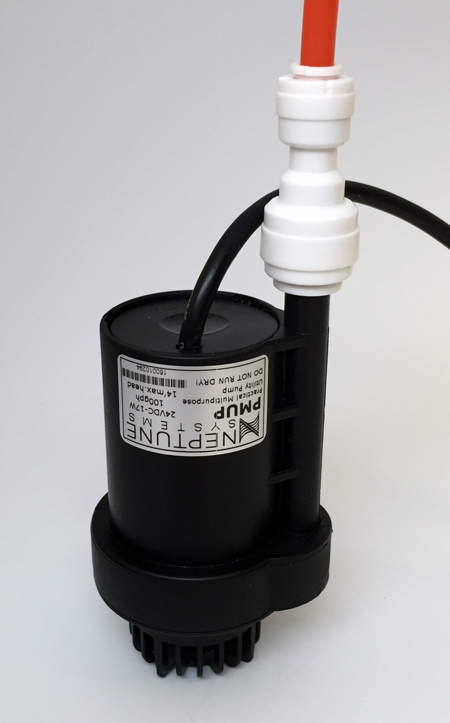 The PMUP is also 24VDC and the motor is brushless making it super quiet.  Neptune's PMUP is designed to directly connect to the DC24 accessory ports on either the 1Link module OR the same ports on the new Energy Bar 832.  Also if you own or plan to add the WAV powerheads or the new Apex aquarium controller you will have a place to plug it in. The ports are switchable and can power the pump on and off just like any other outlet on an Energy Bar, making the PMUP a great accessory for any Neptune controlled aquarium.
Specifications:
Dimensions – 4.58″ x 2.24″
Output – 100gph @ 0′
Max Head – 14′
Power – 17W
Requires:
Apex (any model)
1Link module or Energy Bar 832 with available DC24 accessory port