President Obama, with the stroke of a pen, created the world's largest ocean reserve on Friday off Hawaii, days after designating a massive federal monument in Maine – moves that have angered local lawmakers who accuse the president of disregarding the impact on residents.
Obama used a presidential proclamation to expand the Papahānaumokuākea Marine National Monument off the coast of Hawaii by over 400,000 square miles. The preserve now stretches 582,578 square miles, the world's largest marine protected area.
"The expansion provides critical protections for more than 7,000 marine species … [and]will allow scientists to monitor and explore the impacts of climate change on these fragile ecosystems," the White House said in a statement, citing the support of Sen. Brian Schatz and "prominent Native Hawaiian leaders."
But the decision drew sharp criticism from the fishing industry and even fellow Democrats, as it will drastically expand the area where commercial fishing and drilling is banned.
Former Democratic Gov. George Ariyoshi said at a rally last month that it came down to the question of who actually owned the ocean.
"The ocean belongs to us," Ariyoshi reportedly said. "We ought to be the ones who decide what kind of use to make of the ocean."
Representatives from the fishing industry warn the move will increase prices and imports, The Honolulu Star Advertiser reported. All commercial extraction activities will be prohibited within the area, though non-commercial fishing is allowed by permit.
The regional council that manages U.S. waters in the Pacific Islands said the decision "serves a political legacy" rather than a conservation benefit.
"Closing 60 percent of Hawaii's waters to commercial fishing, when science is telling us that it will not lead to more productive local fisheries, makes no sense," said Edwin Ebiusi Jr., chairman of the Western Pacific Regional Fishery Management Council. "Today is a sad day in the history of Hawaii's fisheries and a negative blow to our local food security."
The Pew Charitable Trusts, which supported the expansion, gave an idea of how big the area truly is, saying more than three Californias could be squeezed into it: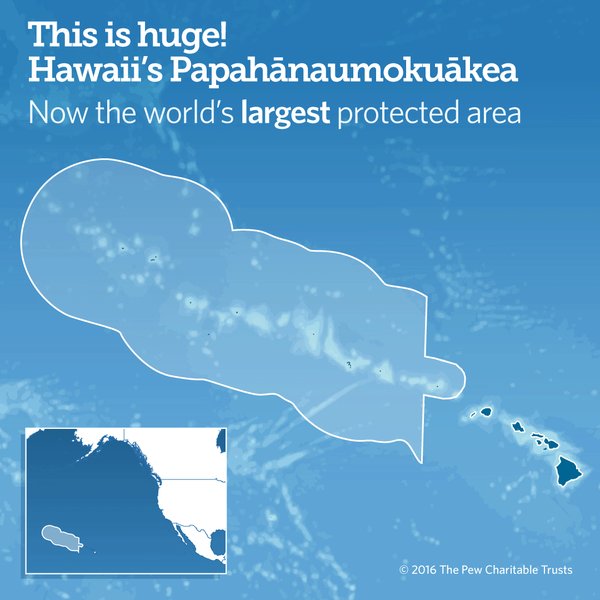 "President Obama is once again taking unilateral action against the will of the people, this time the citizens of rural Maine," Republican Gov. Paul LePage said. "The Legislature passed a resolution opposing a National Monument in the North Woods, members of Maine's Congressional delegation opposed it and local citizens voted against it repeatedly."
The move also was opposed by Sen. Susan Collins and Rep. Bruce Poliquin, both Republicans.
"Our local job creators—not Washington bureaucrats—know best how to use our working forests and provide proper access for industries to create more jobs including those in the outdoor recreation businesses, like snowmobiling, hunting, rafting, camping and so on," Poliquin said in a statement.
Original article: FoxNews.