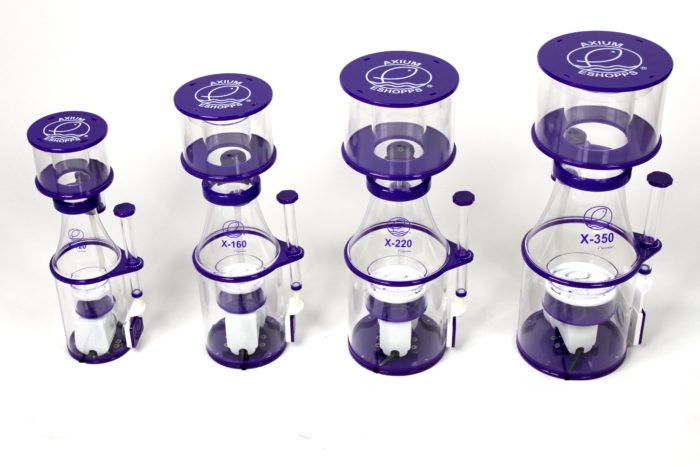 The new Eshopps Axium is the 3rd generation of the popular PSK series and they are about to hit the market.  The Axium skimmers will be available in 4 sizes and will be powered by the ever popular, ultra quite Sicce Italian Syncra pumps.
The Axium skimmers switched to an internal pump design minimizing the footprint where sump space is generally a concern.  Eshopps has also redesigned the skimmer body and added an adjustable baffle, air intake silencer along with a quick release pump lock, making pump cleaning more user friendly and less time consuming.
Blades were added along with a newly designed bubble plate which forces the micro bubbles to rotate as they ascend in the skimmer body, increasing the bubbles dwell time and further increasing the overall efficiency of the skimmer.  The skimmer also features independent water and air adjustments for fine tuning the skimmer.
Visit Eshopps to learn more.  More new products coming…stay tuned.
X-120

X-160

X-220

X-350

Item #

55101

55111

55121

55131

Diameter

4 ¾"

6"

7 3/8"

7 7/8"

Height

18"

20"

21.5"

22 7/16"

Footprint

6.5×5 ¾"

7 5/8×7 ¼"

9×8 ¼"

9 ¾ x 9 5/8"

Water Level

7-9"

7-9"

7-9"

7-9"

Tank Rating

40-120 gal

100-225 gal

200-325 gal

300-450 gal

Pump

Sicce SE-200

Sicce PSK-600

Sicce PSK-1000

Sicce PSK-1200

Watts

10

14

18

22

Bioload Capacity

75 – Heavy

90 – Medium

120 – Light

100 – Heavy

170 – Medium

220 – Light

200 – Heavy

270 – Medium

320 – Light

300 – Heavy

370 – Medium

420 – Light