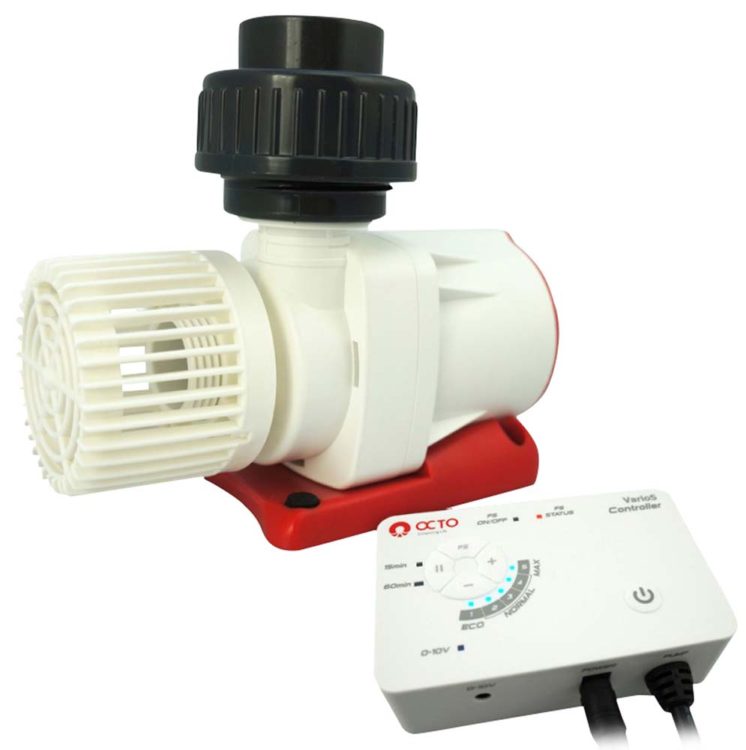 Back in September of 2016, we stopped by CoralVue's booth at MACNA to talk with our good friend and part time comedian Ricardo Laso.  At their booth, CoralVue had a slew of new aquarium products on display from IceCap, Giesemann, RLSS, and Reef Octopus. What stood out the most to me was the "tower of power".  At the bottom of the tower was a relatively small pump, probably a beta or prototype VarioS-8 DC controllable pump.
As you can see from the video (see link above), the pump is very powerful but what you may not be able to tell is that the pump is also very quite, making it ideal for home aquarium instillations.  Reef Octopus has been in the testing lab for several months and CoralVue, the US distributor recently released the specifications for the most powerful model in the VarioS lineup.
The pump is ultra quite and very efficient at moving water.  At full power the pump only draws 98 watts with a maximum flow rate of 2700GPH and a maximum vertical head pressure of 18 feet.
MAX FLOW: 2700GPH  /  MAX HEIGHT: 18FT*
Features:
Safe and Efficient 36 Volt Operation
5 Controllable Energy Saving Power Settings
Detachable Controller with Waterproof Union
Safety Float Switch
0-10v Input for 3rd Party Controller
Integrated Memory
Two different pause/feed modes that will shut off the pump for either 15 or 60 minute intervals.
Super Quiet Operation
True Slow Startup
Submersible or External Applications
Comes with intake screen and plumbing attachments
Specifications:
Efficiency: 36V / 98watts
Dimensions: 3.75in(W) x 5.7in(L) x 5.5in(H)
Controller Features: multiple pause times, float switch safety and 0-10v input for 3rd party controller
Includes: VarioS-8 pump, controller, float switch, power supply, protective intake screen and connection fittings.
The Varios-8 pump should start should begin hitting store shelves within the next few days at a price of $349.99.