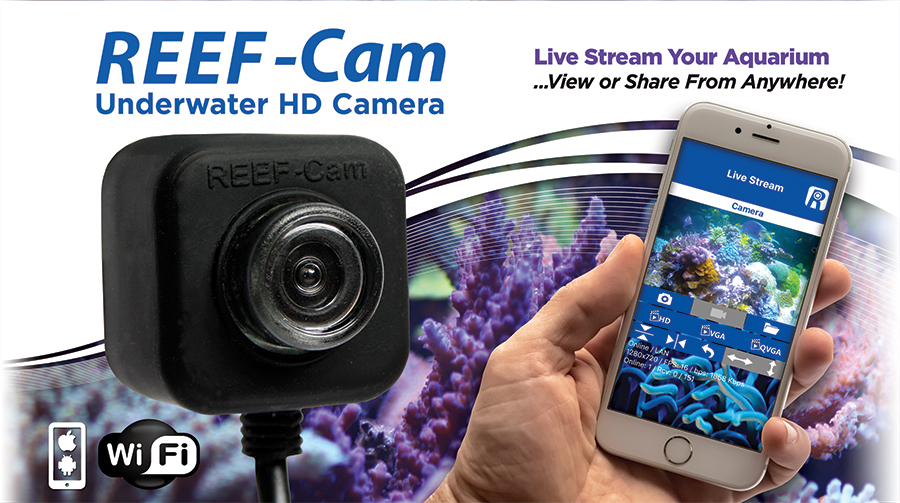 Typically we don't post articles this late in the day but this one really caught our attention and we thought our readers would like to be the first to hear about this exciting new underwater micro video camera from IceCap.
IceCap has just announced that it is launching the first underwater video camera capable of live streaming in HD (720p) from anywhere using an iOS or Android mobile device.  The Reef-Cam features a wide-angle lens that will provide the viewer with a 120° field of view.  The camera is compact and can be mounted externally or fully submerged in the aquarium.
Live Underwater HD (720p)
Video Streaming!
Waterproof camera lens
Wide 120° field of view
0.9 effective megapixels
Innovative micro design (1in x 1in x 3/4in)
Plug and Play setup and operation
Mounts inside or outside the aquarium (FULLY SUBMERSIBLE)
Multidirectional pivoting ball joint mount
MicroSD card – save videos and photos (card not included)
Built in WiFi or direct ethernet connection
Wide range of accessories available
Snap shot/video recording
CoralVue expects to begin shipping the camera to dealers and distributors in about two weeks.  Pricing has not been formally announced yet but we expect to have that information available before orders begin shipping.
If you have questions about this new camera please post your comments below or visit our Facebook page.