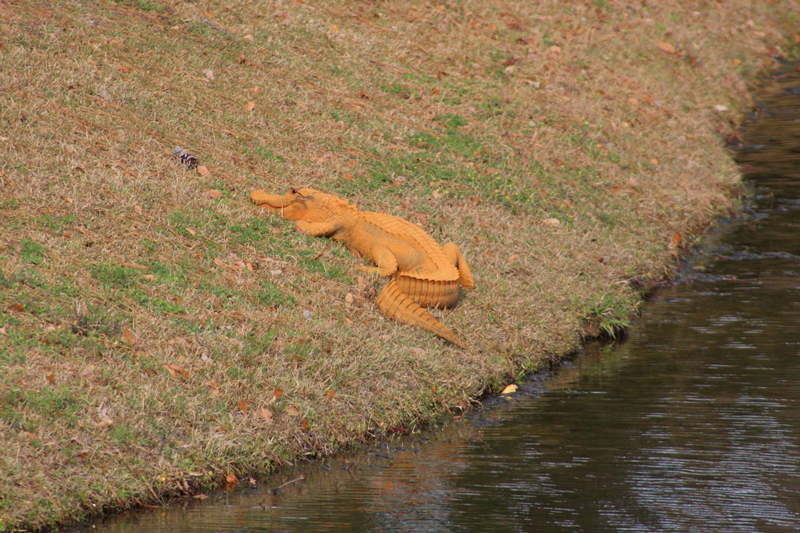 An alligator in a small South Carolina town is gaining national attention as being home to the 4.5 foot gator "Trumpagator." (Others here in SC are also referring to it as the Clemson Gator. Clemson University has recently come into the national spotlight after their win over Alabama for the College Football National Championship.)   Whatever you want to call it, the little fella is gaining a lot of fans on the internet.
The orange hued gator has taken up residence in Hanahan, South Carolina, a small town near Charleston, SC and no one is sure why the gator is a rusty orange color.
On social media, one commenter said, "It's a Trumpagator," while another person said he used too much self tanner!
Twitter users got in on the fun also:
"I say it got a hold on a bag of Cheeto's. My fingers turn orange when I eat them. Just a guess though," tweeted one.
"So the gators here in the Low Country are showing support for our president. Meet #TRUMPAGATOR found just now in a pond by my house. Cute lil guy," tweeted a local resident.
"Democrats' worst nightmares coming true. Even the environment is turning against them. #Trumpagator!" tweeted another.
The obligatory references to "draining the swamp" were not lacking.  Hey Bo, that that thing is orange!  Bet it still tastes like chicken!