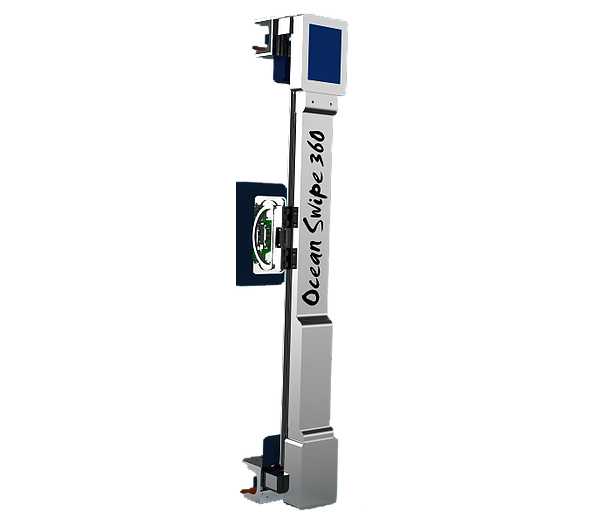 Do you hate cleaning the viewable panels of your aquarium glass?  Well, Ocean Swipe thinks they have the solution for you.  Ocean Swipe 360 is a young company out of Quebec, Canada and they promise to clean the aquarium glass for you and best of all it goes around corners.

The OS360 is the first robotic glass cleaner will not only go around corners but it will avoid obstacles and remove algae from all 4 sides of the aquarium.  The unit runs on a lithium ion battery that can clean a 300 gallon aquarium in 12 minutes and re-charge itself in 35 minutes.  The maximum cleaning time is 60 minutes before recharging is necessary.  
Power is supplied via a 24volt power supply and it connects to the bottom track and recharging occurs when the glass cleaner parks at the bottom of the track.  The Ocean Swipe site states that the robot communicates though WiFi but we couldn't find other details about what the device communicates back to the aquarist.
The tracks come as a kit and it snaps together to fit different sized aquariums between 22 inches and 48 inches tall with a glass thickness up to 1.25 inches.  The OS360 can be scheduled to clean the aquarium every day or it may be cleaned at any time by pressing the clean button on the unit.
If you have a sand bed then this is not an issue for the robot either.  The developers realized that aquariums with sand beds would be an issue and that standard velcro pads could pick up sand particles and scratch the glass so they designed a smooth close cell material that does not pick up sand particles.  to further insure that sand is not picked up by the robot the program slows the robot down near the bottom 1″ of the water column to prevent sand from being disturbed picked up by the cleaning pad.
For a limited time Ocean Swipe 360 is offering introductory pricing on the 3 different configurations:
Option 1 Promo price $850.00 (reg. price $1150.00) for aquarium up to 26″ high with glass thickness up to 1″.
Option 2 Promo price $975.00 (reg. price $1275.00) for aquarium up to 38″ high with glass thickness up to 1.25″.
Option 3 Promo price $1450.00 (reg. price $1750.00) for aquarium up to 48″ high with glass thickness up to 1.25″.
All the options include the touch screen, software, 30 feet of track, lithium batteries, docking station, 1 cleaning brush, 2 cleaning pads and optional items include corners ($36.00 pair), extra track ($6.00 per ft), and extra snap-on cleaning pads  ($14.00 each).
With such an expensive price tag, one has to wonder how mainstream this device will become.  To visit the OS website click here.