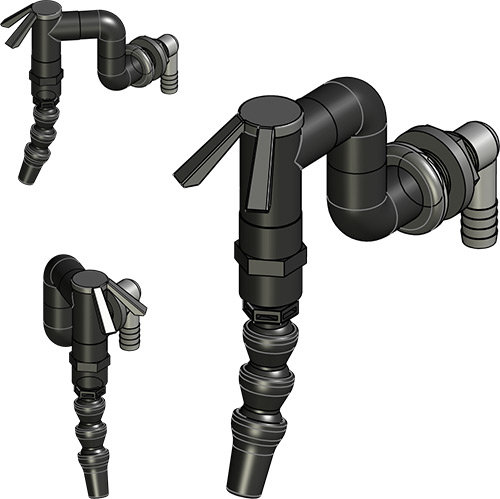 Custom Aquariums has been granted a United States Patent for the Siphon Stopper aquarium output nozzle, which minimizes the risk of a back siphon from the aquarium to the filter sump without reliance on failure-prone check valves.
According to Custom Aquariums, the advantage of the Siphon Stopper design is that no seals are required to break the back siphoning of water from the aquarium in the event of a return pump failure or power outage.  The Siphon Stopper works automatically when air enters the Siphon Stopper cap when the flow of water is shut off.
No matter what height the output nozzle is positioned under the water, the Siphon Stopper cap sits at the water line and will break the back siphon. Gravity will then empty the water line from the return pump to the output nozzle, so there is no back pressure on the pump when power comes back on, resulting in the filter resuming normal operation without any need for priming.
The Siphon Stopper output nozzle provides peace of mind for aquarium hobbyists and maintenance companies who will not have round-the-clock observation of the aquarium system. There is no longer the need to rely upon questionable check valves, o-rings or gaskets to prevent costly damage due to back siphon floods from an aquarium.
"We rely upon the Custom Aquariums filter system in hundreds of aquariums that we service.  The Siphon Stopper has put an end to emergency service calls to restart pumps or canister filters after power goes out."
Custom Aquariums is a division of Cages by Design, a company based in Neenah, Wisconsin that provides exceptionally engineered animal enclosures from aquariums to zoo displays.  Click the link below to learn more about the Custom Aquariums Siphon Stopper and to see pricing and aquarium accessories visit the aquarium accessories page.
If you happen to be using the product then please share your thoughts in the comment section below.