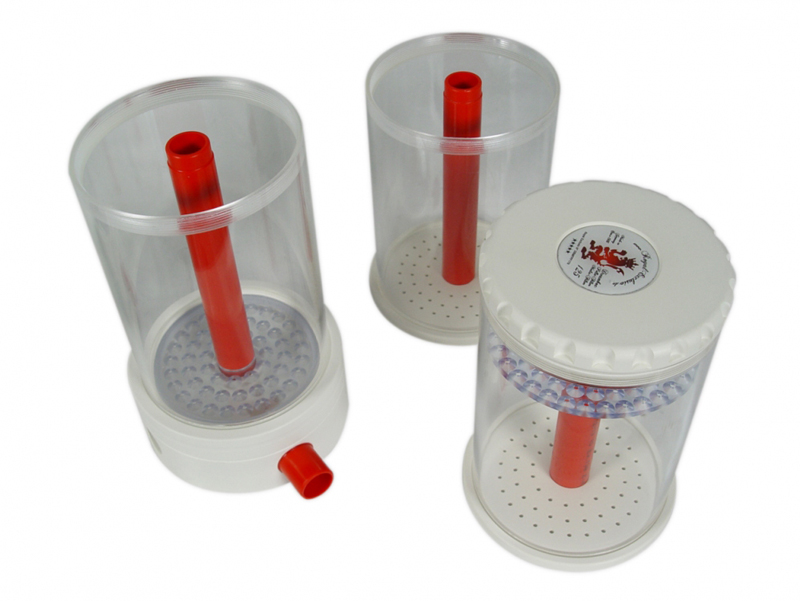 Its hard to argue that Royal Exclusiv manufactures some of the finest quality and innovative aquarium gear anywhere in the world.  Manufactured in Germany, Royal Exclusiv is known as a brand that surpasses expectations.  With their new and much larger state of the art facility, Klaus Jensen, the founder of Royal Exclusiv has continued to innovate and develop new products with a new space saving stacking media filter dubbed; media filter 3.0.
With so many great filtration products on the market, keeping water parameters in check has never been easier but having enough space in an aquarium cabinet still presents challenges for many.  Thankfully, manufactures like Royal Exclusiv are designing aquarium hardware that neatly and efficiently maximizes space in the aquarium sump with products like the media filter 3.0.
Made from high quality durable cast acrylic and white PVC, the 3.0 media filters are stackable and only 1 pump is required to power up to 3 reaction chambers.  The reactor itself can be purchased as a stand alone single reactor chamber, double stacked or in a triple stack configuration as show in the video below.  The video doesn't explain how the water passes through the reactor but it appears that water enters the bottom of the 1st reactor chamber and flows upward through the media until it reaches the top chamber.  As the last chamber fills to the top, water then enters the red pipe that runs though the center of the reactor.  As the water reaches the top of the reactor the water then passes through holes in the down pipe.  This filtered water then gravity feeds though the pipe and exits through a discharge hole on the side of the reactor base.  The reactors are designed to work with various types of GFO media, XL All-In-One Biopellets or XL NP Biopellets, Carbon, Seachem Matrix and more.
Dreambox Media Filter 3.0 Specifications:
Technical specifications:
Dimensions: 4.92″ (125mm) tube, 5.12″ (130mm) cover, 5.91″ (150mm) foot + .98″ (25mm) red tube x ~ 23.82″ (605mm) high (triple stacked)
Volume: 6.0 liters /// 4.9 liters (media)
.52 gallons (2 liters) volume per chamber /// Max media per chamber .45 gallons (1.7 liters)
With solid foot, on request for attachment in the sump (Dreambox Sumps only).
Media filter made of white PVC and high quality acrylic glass / Plexiglas ®
Including piping perforations OD 25mm
Universally usable media filter for a wide range of media
On request: also in your Dreambox (only with new purchase) With free piping
Made of high-quality hard PVC and Plexiglas ® (acrylic glass)
100% Made in Germany / assembled by hand
Pricing:
Single Stack 428.00 EUR
Double Stack 603.00 EUR
Tripple Stack 778.00 EUR
Note: Pricing and availability for the US coming soon.
The flow rates for media filter per hour (recommendation):
4.92″ (125mm) = 1.56 gallons (6.0 liters) at about 660 gph – 792 gph (2500 – 3000 l / h)
For more information visit Royal Exclusiv site.