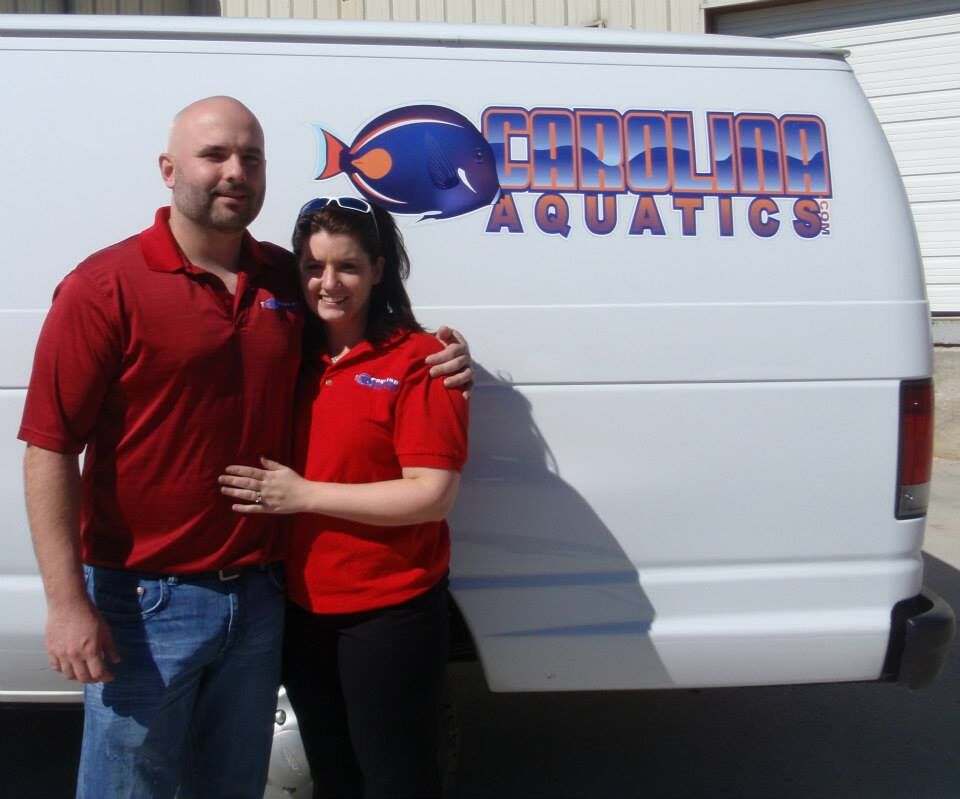 Blue Ridge Fish Wholesale acquisition brings full-line freshwater aquarium livestock offerings to trusted marine aquarium livestock and dry good wholesale distributor Carolina Aquatics.
Kernersville, NC—June 28th, 2017—Marine and reef aquarium livestock wholesaler Carolina Aquatics today announced the acquisition of long-time business partner Blue Ridge Fish Wholesale.
Blue Ridge Fish Wholesale, founded in 1993, has grown to offer a complete line of tropical freshwater aquarium fish, pond livestock, reptiles, small animals and more.  Blue Ridge Hatchery is particularly well known for their production of domestic Goldfish and Koi.
Carolina Aquatics, founded in 2005 by Kris Cline, has a well-deserved reputation for quality marine aquarium livestock and transshipping along the entire East Coast, serving clients nationwide. Carolina Aquatics is currently collocated within Blue Ridge Fish Wholesale's Kernersville facility. Both companies have enjoyed a beneficial working relationship for the past 12 years.
Blue Ridge owners Karen and Randy Lefever were highly instrumental in the beginning of Carolina Aquatics, providing some initial funding for the launch of Cline's business. After 24 years in the business, the Lefevers were ready to focus exclusively on Blue Ridge Fish Hatchery, while Cline and Carolina Aquatics are poised for growth.
Carolina Aquatics' long-standing relationship with Blue Ridge Fish Wholesale, and intimate familiarity with the facility and staff, presented a unique opportunity to continue the Blue Ridge Fish Wholesale business and legacy into the future. Plans for the acquisition include the retention of Blue Ridge Fish Wholesale staff, while now operating under the Carolina Aquatics brand.
A few pictures of the Carolina Aquatics Facility in Kernersville, NC.
As stated by Cline, "Carolina Aquatics has hired on the highly experienced employees of Blue Ridge.  Many of them have been working there for over 20 years, and we are excited to have the dedicated staff join our team."
The Blue Ridge Fish Hatchery will remain in operation under the leadership of the Lefevers.
"Blue Ridge Fish Wholesale has truly been a family business built on years of relationships," said Karen Lefever. "We're thrilled to see our commitment to the customer carry on with Kris, under the Carolina Aquatics company name, and we believe we couldn't have made a better choice for our customers.
"We're looking forward to a little more free time, while focusing our energies exclusively with the Blue Ridge Hatchery."
Cline is excited for the expansion of Carolina Aquatics' livestock offerings. Existing clients will now have full access to a complete array of freshwater-related livestock and products from a single source, while Blue Ridge Fish Wholesale customers now have direct access to complete lineup of saltwater offerings from Carolina Aquatics.  Carolina Aquatics is ready to breathe new life into the standard freshwater fare Blue Ridge Fish Wholesale customers are familiar with.
"We are going to bring our knowledge and experience of importing marine fish and coral from all over the world and apply that to the importation of the freshwater stock," says Cline. "The result will be an increased diversity of freshwater offerings, including rarer and niche items to help independent retailers differentiate themselves from mass market offerings."
Cline continued: "We work with our customers to help them be successful in a market that is constantly changing.  If we can make our customers successful then we will be successful.  We have delivery routes from WV down through SC and over to the eastern part of TN and KY.  We can ship anywhere in the continental US."
Carolina Aquatics will officially take over Blue Ridge Fish Wholesale accounts and business operations starting July 1st, 2017. Learn more about Carolina Aquatics here.