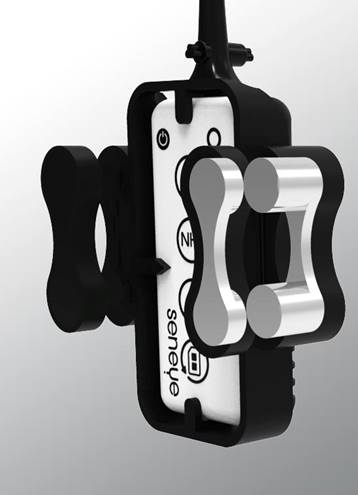 Magnets are becoming more and more common place in the aquarium hobby.  Since the inception of the magnetic drive pumps and 1st generation Ecotech Marine MP series pumps, we've seen magnets incorporated into, probe holders, dosing tube line holders, heater brackets, frag station racks and other aquarium devices including the new Seneye Reef Monitor Mount.
Michael at Aqua Digital tells us that the 1st batch of these are arriving soon in the US but they will be in very limited supply initially.
Seneye has created 2 versions of the mount.  The Slim Line standard holder works on glass up to 10mm (.39″) while the Pro version will mount to glass up to 16mm (.63″) thick. The Mag Holder is recommended for applications where water level SMS alarms on your sump or filter are critical.  The Slim Line Mag Holder retails for $48.99 while the Pro version will sell for $59.99.  Unlike some of the other cheaper magnet holder products on the market, the Seneye mounts are completely water tight and they will not rust.  For more information about Seneye products, please visit the Seneye website.