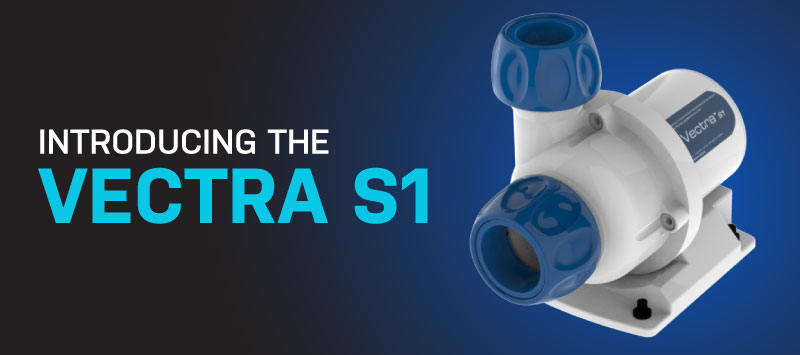 Like the M1 and L1, the S1 also works on EcoSmart Live (ESL).  If you do not own any Ecotech Marine products already, then you may not know that EcoSmart devices can be controlled from anywhere in the world using the web-based control system. This is done via the cloud using Ecotech Marine's Reeflink WiFi hub, which can control any number of Ecotech devices.
When used with the ReefLink, your Vectra pump can send performance and status alerts right to your mobile device or computer.  The return pump is the heart of any aquarium and without it a tank can crash in under 24 hours.
Through ESL, the pump can be configured as a return or closed-loop pump.  Most importantly, the pump can be calibrated for a flow rate that is appropriate for your particular application.
There are 5 modes available in Return Pump Mode: Constant Speed Mode, Feed Mode, Speed Lock Mode, ESL via Mobile Device, and Battery Backup Mode.  In Closed Loop Mode you have your choice of setting it up in Lagoonal Random, Reef Crest Random, or Gyre Mode.
The Vectra S1 is slightly smaller than the M1 and L1 models. This smaller footprint could mean the difference in whether or not it is able to fit into a smaller sump's return pump compartment.
Traditional AC pumps, when used as a return pump, are flow controlled through the use of a choke valve, also known as a ball valve or gate valve.  This method of control is inherently inefficient for two reasons. First , the AC
pump is often over-powered for your given setup to allow for flexibility.  Second, by
adding artificial impedance to your flow, electricity is wasted. The Vectra pumps will always operate
at the optimum efficiency because there is no need to use a flow restricting valve to achieve your
desired flow rate.
The Vectra S1 will include the same QuietDrive technology that allows the pump to run with very little noise production.
Vectra S1 Features:
DC Fully Controllable
QD Driver included
Inline or Submersible
Adjustable Volute
Quick Couples Included
ESL Enabled with ReefLink
Return Pump or Closed Loop
Pre-programmed Modes
Wireless RF communication
Dimensions: Length: 6″  Width 3.5″
Once this Ecotech Marine pump hits stores, you can expect to pay $275.00 for this latest pump.  Ecotech expects to begin shipping the S1 on September 4th. Supplies will be limited initially, and some companies are taking pre-orders now.