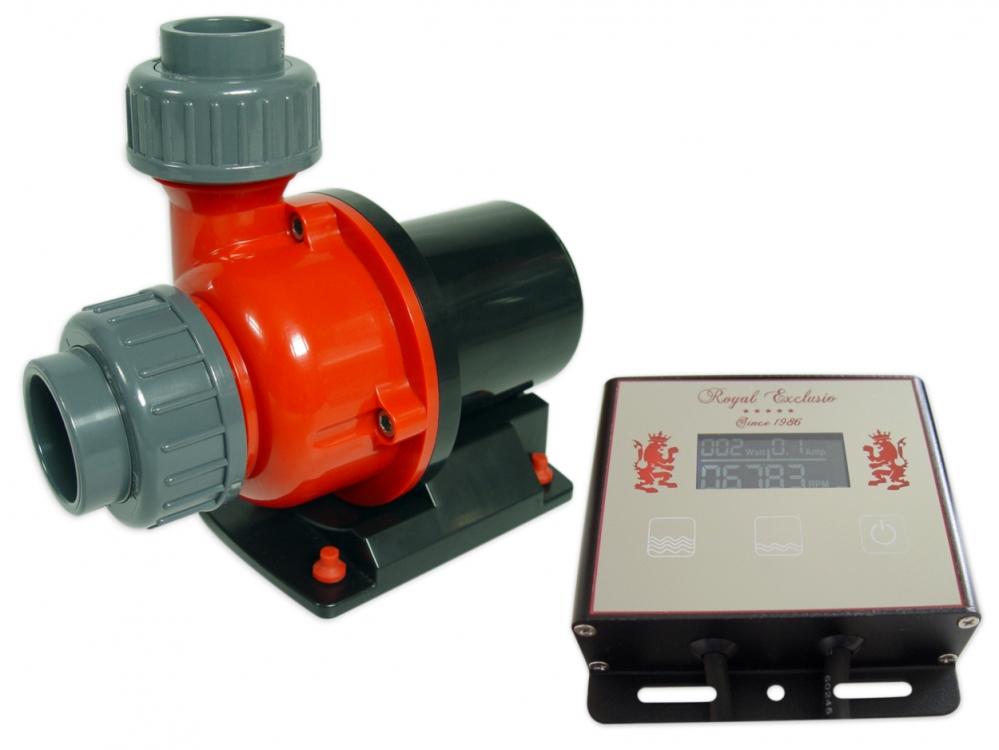 The Red Dragon Eco 5 is a brand new pump model from Royal Exclusiv that is about to hit the US market in October of this year.  Early birds will receive a discounted pre-order price that is now being accepted by authorized US dealers (keep reading to learn more).
Red Dragon Eco 5 Overview –
The Eco 5 has a maximum flow rate of 1057 GPH (4000 LPH) while only consuming 25 watts of power.  At slower speeds the pump will consume even less wattage and Royal Exclusiv has provided flow curves using 25 watts, 15 watts and 10 watts of power as seen by clicking the graphs below.  Like all of the saltwater Red Dragon pumps, the Eco 5 features titanium screws that will not easily corrode in saltwater.  The pump can be used as submersible in a typical sump application or as an externally plumbed pump.  Like the RD3 Speedy models, we expect the RD5 to come equipped with imperial fittings (US) and metric fitting.  The controller box is noticeably smaller and less industrial in appearance than the RD3 pump models.
Red Dragon ® 5 ECO pump 25 watt / 4.0m³ / 24V Technical data
25 Watt / h 8.2 feet (2.5 meters) High
speed control unit Brushless DC (DC) pump
power consumption and speed displayed on controller box
Suction/Intake side 1.25″ (32 mm)  Pressure/Output side 1″ (25 mm)
Operating voltage: 100-240 Volt 50-60Hz  (24V technology)
Protection class Pump: IP 68 Control unit: IP 66
Weight Pump without Power supply / controller: 1.0 kg
Height of suction side: center 60 mm
Pump Dimensions: 3.94″ (100 mm) wide, 6.69″ (170 mm) long, 6.1″ (155 mm) high
Control unit Dimensions: 1.18″ (30 mm) wide, 3.74″ (95 mm) long, 4.13″ (105 mm) high
Features:
sea water resistant M5 grade2 titanium screws
seawater-resistant parabolic rubber feet for acoustic decoupling
extremely quiet Brushless DC pump with external power electronics
High efficiency technology, SineWave for extreme running
Suction and pressure side complete DIN screw connection, compact design
easy handling and maintenance, low risk of calcification
massive design against vibrations and interference vibrations
CE compliant developed and built
Mean Well Power Supply
high-quality touchscreen display with many extra functions
(dry-running protection, protection against overheating, overvoltage, blockages, etc.)
10V connection / control by 3.5mm jack plug
Recommendation: Suitable for this pump a slit pipe as suction protection! COMING!
Pre-Orders are available now at a discounted price (about 8%) and orders for the RD5 are now being accepted at Aquarium Specialty (our retail company) for $424.35 and Royal Exclusiv in Germany for 369.00 EUR.  We also expect Premium Aquatics and Royal Exclusiv USA to have these available for pre-order in the near future.