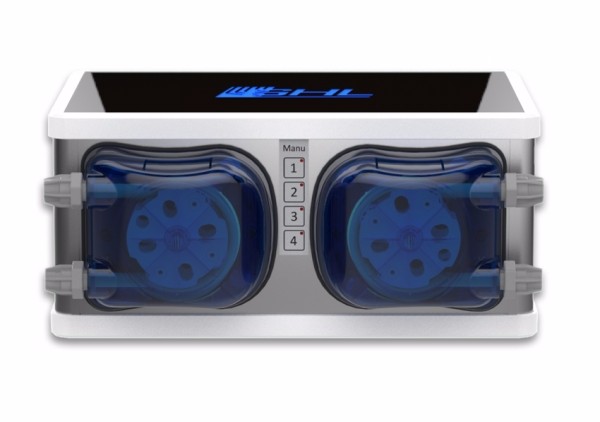 GHL is at it again with the addition of another new product – the GHL Doser 2.1 Maxi.
GHL already has several dosing pump models to choose from but the Maxi differers from the other models by providing some new, innovative features.
First of all, the Maxi comes with two brushless stepper motors that are rated to move up to 350ml of liquid per minute.  The increased rate of volume coupled with the more robust motors is perfect for setting up AWC (automatic water changes) and for continuous-use operation.
As many of us know, lugging buckets of water around can be both annoying and messy.  With the Maxi standalone doser, manual water changes can be a thing of the past. The Maxi allows you to conveniently schedule water changes or or by allowing you to tell the doser when you think it's time for a water change.
Additionally, the motors are designed to last and withstand the rigors of continuous use as a calcium reactor feed pump for your reef aquarium.
Like the Doser 2.1 SA models; the Maxi 2.1 can be purchased as a stand alone device or as a slave model.  If the GHL Profilux controller is not in your aquarium budget, then the Maxi Standalone is perfect.
The Maxi slave unit is backwards compatible with the older Profilux 3 controllers as it seamlessly ties into an existing doser 2.0, 2.1 SA or Profilux 3 or 4 aquarium controller.
Early bird adopters and those looking for a deal can purchase the Doser Maxi at a pre-order introductory price.
Doser Maxi SA – $369.90 MAP (Pre-order $329.90)
Doser Maxi Slave – $319.90 MAP (Pre-order $279.90)
Pre-order special pricing will end November 27th, 2017.