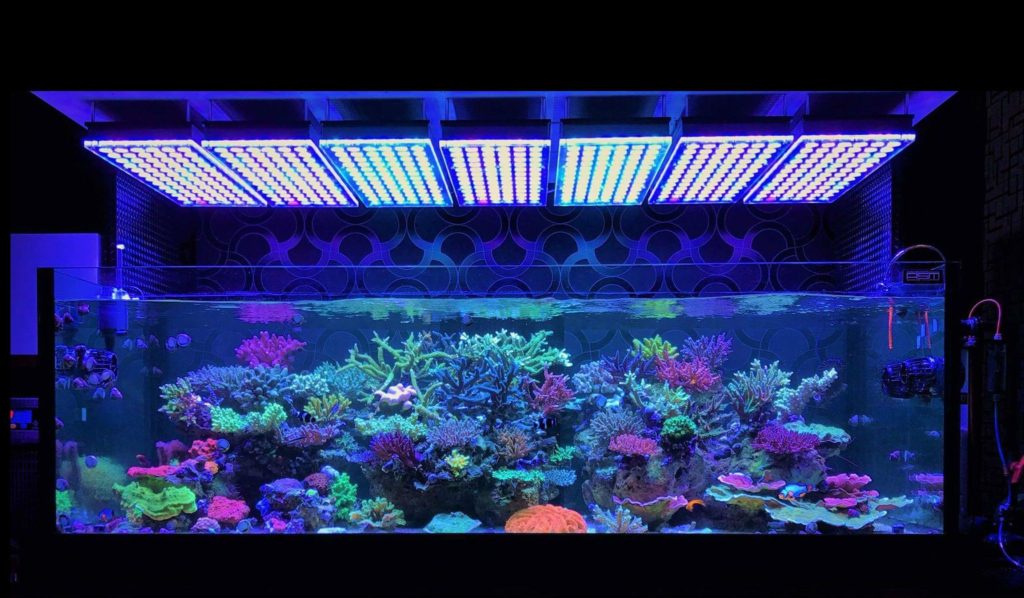 Back in October 2017 we took a look at the newly released Atlantik V4 Compact LED Fixture and today we we will looking at the full sized Atlantic V4 (version/gen 4) fixture.
The Atlantik V4 is very similar in design to the compact version but it is designed for larger aquariums. One fixture will adequately cover an area of 48″ x 35″ from a fixture 24.21″ long x 9.37″ wide.
Like several higher end LED aquarium lights, the Atlantik is controllable on Android & iPhone devices and the fixture's output is comparable to a 400 watt metal halide bulb. However, with its LED efficiency, the fixture maxes out at 235 watts when running all of the color channels at full power.
The fixture houses 78 customized high efficiency 5 watt dual-chip LEDs for a total of 156 LEDs. Each fixture has 14 different types of dual-chips that range from 380nm UV to 850nm infrared. Intensity, duration and other customizable settings can easily be programmed through four independent channels. In addition, the fixture is available with wide convex lenses for tanks under 40 inches deep (most tanks), though you have the option of using 60 degree optics for tanks deeper than 40 inches.
Atlantik V4 Specifications:
Color/Materials
Light Unit Body Material: Black acrylic housing and silver stainless steel grill
Weight
Light Unit Weight: 16.7 lbs (7.6kg)
Power box Weight:  2.2 lbs (1.02 kg)
Package Dimensions / Weight
Length: 27.55″ (700 mm)
Width: 17.71″ (450 mm)
Height: 7″ (180 mm)
Package Weight:25.35 lbs ( 11.5 kg )
Package V.W.:26.45 lbs ( 12 kg )
Cords
Power extension cord with waterproof connector from Light Unit to Power Box: total 112″ (2.85m)
Power Cord:  59″ (1.5 m)
Hanging Kit
2 steel cables:  9.84" (250 mm)
1 steel cable:  70.86" (1.8 m)
Dimensions
Length: 24.21" (615mm)
Width: 9.37" (238mm)
Height: 2.11" (53.6mm)
Atlantik V4 Customer Gallery:
(Immo's Tank – Switzerland)
(Bryan Shaw's Tank)
Orphek has pages of detailed information about these fixtures. To learn more about the Atlantik V4 click here.
* We haven't seen the full sized V4 fixtures in action yet but we are currently using the Atlantik slimline fixtures over 2 newly setup frag tanks in our coral farm. Also, new custom Zen Reef racks will be arriving for these displays next week. Once the tanks are setup with the new racks, we will post some pictures and perhaps a video in the coming weeks.