We've been waiting quite some time for this news, but it's finally here: The COR-20 and COR-15 Intelligent Return Pumps from Neptune Systems are available for pre-order on a limited basis starting today.
These variable-speed, brushless, DC-driven centrifugal water pumps are designed specifically for aquariums to be intelligent, energy-efficient, unbelievably quiet and incredibly powerful for their size.
The COR-20 does not require use of Neptune's Apex Controller System to operate. If you do connect the COR-20 pump to an Apex, though, it becomes the most intelligent and feature-rich aquarium pump on the market today.
The COR-15, meanwhile, does rely on Apex. It uses a relatively new connection standard for the Apex System. The 1LINK port provides up to 50 watts of power, as well as the control signal to connected devices. The advantage for devices like the COR-15 is that no additional power supplies are necessary.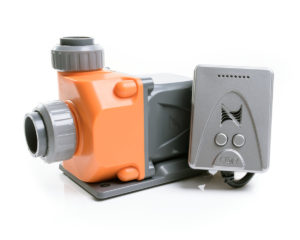 Both are fully compatible with every Apex System on the market.
The initial limited supply of these COR pumps will begin shipping the first week in January, while the next round won't ship until March, so order yours now.
Neptune has set a minimum advertised price of $324.95 for the COR-20 and $274.95 for the COR-15.
Click here for a list of authorized online retailers.
Click here to find a local dealer near you.
Flow-to-power ratio
Both the COR-20 and the COR-15 put out great flow while being stingy on power, reducing your operating cost and the impact on the environment. You'll want to plumb the pump using the largest diameter pipe possible (Neptune recommends at least 1.25″) to ensure the best performance.
Advanced controllability
COR pumps were built with Apex controllability in mind. You can manage your pump output percentage, get real-time operational feedback from the pump, integrate it into complex feed routines, and monitor the status of the pump from anywhere in the world via Apex Fusion – Neptune's free, cloud-based service that lets you control your aquarium on nearly every device platform – computer, tablet or smart phone; Windows, OSX, iOS or Android.
Easy installation
Connect the plumbing, plug the COR pump into its driver and plug it in to an outlet or a 1LINK port. A few button pushes later, you'll be setting the pump flow rate and feed modes. If connected to an Apex, a set-up task takes you step-by-step through the entire installation process.
Whisper-drive technology
COR pumps use the latest in Vector Control, BLDC motor technology. This drives the COR pump in a way that is both energy-efficient and practically vibration- and noise-free.
Obstruction detection
Should the intake to your COR or any of your plumbing become significantly obstructed by snails, filter pads or other foreign objects, the pump will alert you by flashing the LED on the driver. Connect the COR to an Apex System and the Internet, and it will send an alert to your mobile device, as well.
Internal temperature monitoring
If the internal temperature of the COR pump motor reaches an unsafe level, the pump driver will slow the pump down just enough to bring the temperature into an acceptable range and notify you of the issue. That keeps the water circulating in your tank until you have time to address the problem.
IQ-level
Once you set your desired output level and overflow capability, the COR pump will memorize that. If you should lose power, the pump will return to that desired setting when it restarts. During feed modes, water will not completely back-siphon, preventing the burping and bubbling that can occur when a pump powers back up.
Feed mode
By pushing a few buttons (COR-20) or some simple configuration in Apex Fusion (COR-15), you can set a feed mode that will slow the pump to your preferred level. When connected to an Apex, you can even have other tank operations sequence with this feed mode and the time interval of the feed mode can be customized as well.
Included fittings
Both the COR-20 and COR-15 come with all the fittings necessary for most aquarium configurations (0.75″ output, 1″ input). A 1.25" union for the output also is included, allowing you to connect the pump in a way to produce as little head loss as possible.
What's required
Plumbing fittings, hose, pipe, etc., and some basic knowledge of plumbing. For the COR-15, you'll need any Apex System with an available 1LINK port.
What you get with the COR-20
COR pump, COR-20 pump driver, 100W 24VDC power supply, power cord, 1.25-inch PVC union (Slip->BSPP), 1-inch slip fitting, 0.75-inch slip fitting, and a 3-foot AquaBus cable.
What you get with the COR-15
COR pump, COR-15 pump driver, 1.25-inch PVC union (Slip->BSPP), 1-inch slip fitting, 0.75-inch slip fitting, and a 6-foot 1LINK cable.
Physical dimensions (COR-20 and COR-15)
Pump:  3.875 inches wide | 4.875 inches high | 6.250 inches deep
Driver:  3 inches wide | 4 inches high | 1 inch deep