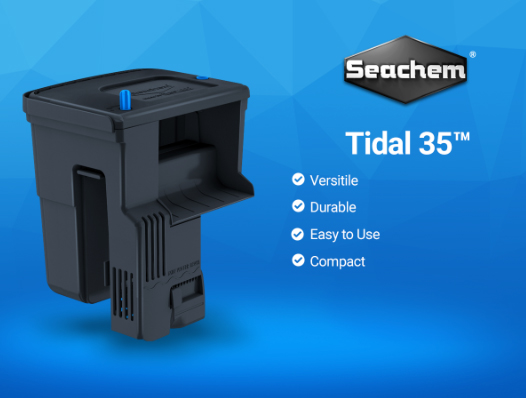 Seachem has packed all the same great features into the popular Tidal Power Filter lineup and now there is a new model for smaller aquariums. TheTidal™ 35 Power Filter is designed to deliver the highest water quality possible with maximum versatility and ease of use…all in a smaller footprint for up to 35 US Gallon (130 L) aquariums.
Tidal 35 Features:
Highest Flow Rate in Class 130 US GPH (500 L/H)
High Capacity Filter Basket with Matrix™ Bio-Media
Self-Cleaning Impeller
Maintenance Alert Feature
Surface Skimmer
Flow Regulations
We have been using a Tidal 50 filter on a 16 gallon soft coral tank and we couldn't be more pleased with this setup. The water is crystal clear and a protein skimmer was too much of an eyesore for this particular tank.
The new Tidal 35 Power Filters will begin shipping to retail stores and online outlets very soon. To learn more about the Tidal series filters visit the Seachem website.