GHL is announcing their newest product at MACNA in Las Vegas this week but we are sharing the information a little early.
in an expansive line of modules for their ever popular ProfiLux Controller, the Temperature Control 2. This is GHL's second foray into the aquarium chiller world, with the first attempt at making an aquarium chiller back in 2008 with the original PTC (ProfiLux Temperature Control).

Just like the original PTC, the PTC2 (ProfiLux Temperature Control 2) still uses a Peltier Thermo-Electric cooler.
The use of a Peltier cooler is revolutionary in the aquarium world as a Peltier can be controlled variably as opposed to the binary ON/OFF control of a typical compressor style chiller. The main advantage to the variable control is that the temperature can be consistently maintained throughout the day, whereas with a compressor style chiller there will always be a temperature swing of a few degrees every time the chiller turns on and off. Another advantage of using a Peltier cooler is that the cooling process is done electronically as opposed to mechanically, meaning no moving parts. In fact the only moving parts on the PTC2 are the cooling fans.
To use the PTC2 you are required to have a GHL Profilux contoller as well as an open variable voltage (1-10v) port. By communicating with the Profilux controller it allows the chiller to draw only as much power as is needed in order to maintain the desired temperature.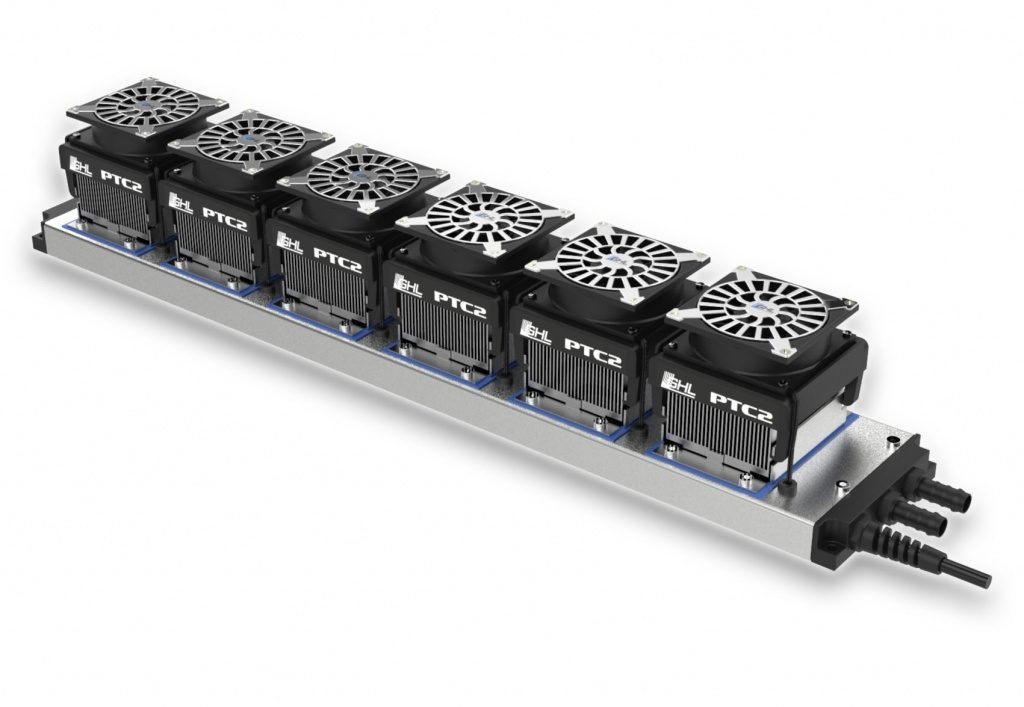 Heats and cools using Peltier technology – Electric power is converted directly into heat or cold
Highly efficient and long-lasting – Peltier elements are only operated at partial load
Continuous power control – Automatically adjusts needed power based on actual temperature
Significantly quieter and more compact than conventional compressor chillers
Integrated smart fan-control prevents unnecessary operating noise
Heat exchanger made from V4A stainless steel, PTC heat sinks utilize a copper core.
Suitable for freshwater and saltwater aquariums
Superior safety – Fan speed and heat sink temperature are constantly monitored
Highly reliable – No moving parts except the included fans
Environmentally friendly – No ozone-depleting chemicals and no coolant necessary
Easy to install
Available with 2 to 6 Peltier elements
The PTC2 can also be run in parallel if more cooling power is needed.
PTC models

Average temperature decrease

Type / Power

5°C/9.1°F

3°C/5.5°F

2°C/3:6°F

5°C/9.1F

3°C/5.5°F

2°C/3.6°F

PTC2-2 / 160 W

60

115

160

16

30

42

PTC2-3 / 240 W

100

160

240

26

42

63

PTC2-4 / 350 W

130

210

300

34

55

79

PTC2-6 / 480 W

190

310

450

50

82

118

max. aquarium capacity in liter

max. aquarium capacity in U.S. gal.
For more information visit GHL or a GHL authorized retailer. If you are attending MACNA then be sure to stop by the GHL booth (# 536)and tell nice folks that you first heard about it on AquaNerd!