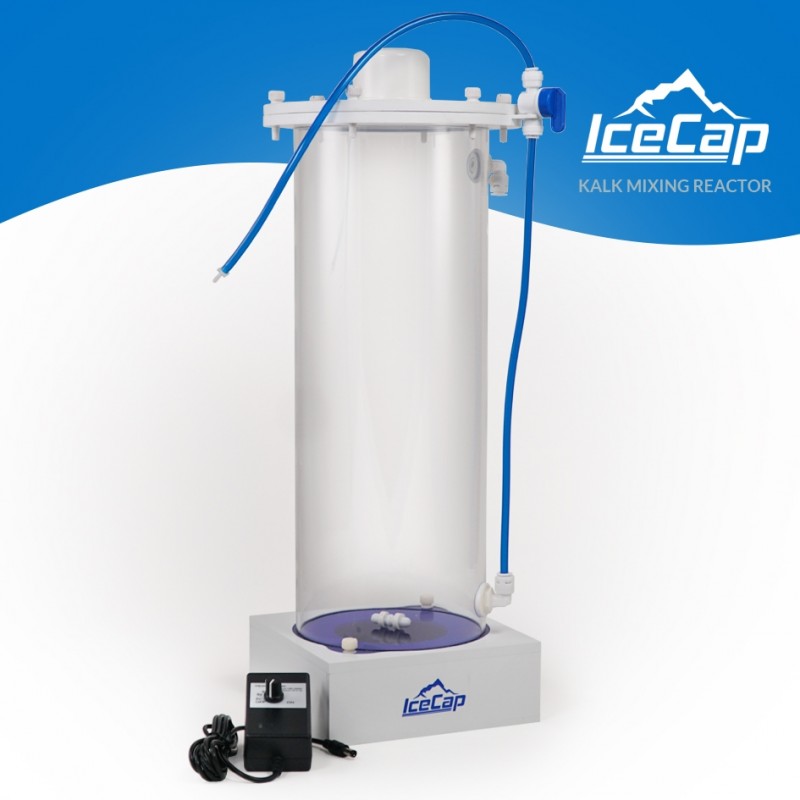 IceCap is expanding the product line with 3 new kalk reactors for aquariums ranging in size between 100 gallons and beyond 300 gallons and they are hitting the market now.
The IceCap Kalk Reactor or Mixer as they prefer to call it, is specifically setup for mixing calcium hydroxide (Kalkwasser). Kalkwasser reactors are nothing new but most of them use a recirculation pump or mixing rod to stir the saturated solution of RODI water and Kalk powder. IceCap has decided to go with a speed adjustable magnetic mixer.
The IceCap Kalk Mixer is made from PVC and acrylic and it can easily be integrated into your aquarium auto-top-off setup.
Key Features:
Adjustable speed magnetic mixer
Solid PVC and acrylic construction
Compact profile easily fits under your tank
Reactor vessel detaches from base for easy maintenance
Push-fit tubing connectors
Convenient quick-fill cap for mess free Kalkwasser addition
Sealed airtight environment preserves solution potency
Gravity drain design ensures reliable performance
Why use Kalk?
If you are an old reefer ,like me, then you are well aware of the benefits of using Kalk but for you newer aquarists, here's the skinny.
Using Kalkwasser to supplement the aquarium with calcium and carbonates is one of the most efficient and economic methods and has been used successfully on reef aquariums for decades. Kalkwasser also has the added benefit of reducing phosphate levels in the aquarium. Kalkwasser causes phosphate to precipitate out of solution as calcium phosphate (Ca3(PO4)2) making it biologically unavailable for nuisance algae. Kalkwasser powder is relatively inexpensive, is super concentrated and can simply be mixed into your top-off water. Additionally, the elevated pH of the resulting kalkwasser solution and CO2 reducing properties help to maintain a more desirable and stable pH of 8.3 inside your tank.
The use of the IceCap Kalk Mixer will ensure maximum concentration with each dose to your aquarium and reduce the need for frequent manual additions and mixing of the solution. In short, it can make your reefing experience a little easier with the added benefits mentioned above.
How It Works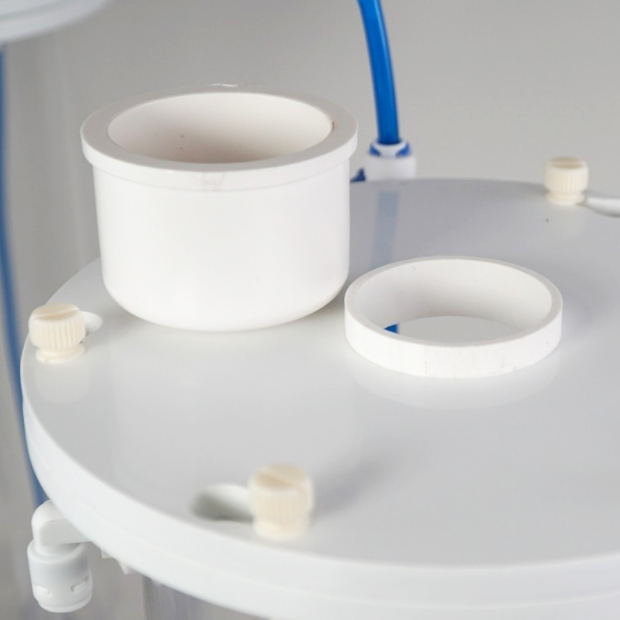 IceCap tells us that setup is easy. Simply connect the IceCap Kalk Mixer to any freshwater reservoir with the use of an Auto Top Off unit or dosing pump. Kalkwasser powder is then added to the mixing chamber via the quick-fill cap located on the top of the mixer. The adjustable speed motor should then be attached to a timer or controller (not included) and set to periodically mix the solution inside the reactor a few times per day.
When freshwater is pumped from your ATO reservoir into the reactor, the freshly mixed and highly concentrated Kalkwasser solution is pushed out and into your aquarium.
When adding kalkwasser to any aquarium, it is recommended to use a pump with a slow flow rate. Due to the high pH of the solution, you must add kalkwasser slowly and in small amounts, typically multiple times per day. Most ATO systems on the market will fit the flow rate needs of the reactor very nicely because of the small and frequent dosages of freshwater.
Maintenance
IceCap recommends topping off the reactor with additional kalkwasser powder every two weeks. The reactor vessel only needs to be rinsed out completely once per month to dispose of precipitates and make room for fresh Kalkwasser powder.
Available in 3 Sizes:
Small – Ideal for Aquariums up to 100gal
Footprint: 5.7″ x 5.7″ | Body Diameter: 5″ | Height: 25″ | Holding Capacity: ~1gal
Medium- Ideal for Aquariums up to 200gal
Footprint: 7″ x 7″ | Body Diameter: 6″ | Height: 25″ | Holding Capacity: ~2gal
Large – Ideal for Aquariums up to 300gal+
Footprint: 9″ x 9″ | Body Diameter: 8″ | Height: 25″ | Holding Capacity: ~3gal
push connect fittings

magnetic stir rod