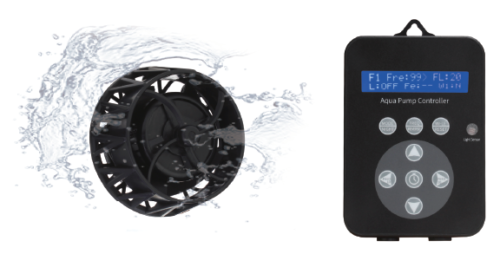 With such a demand for wavemakers, H2Pro recently released an all-new wave pump to the aquarium hobby. H2Pro's goal was to create a versatile and reliable wavemaker pump at an affordable price point and they believe they have done it with the CY-1 Cyclone.
The Cyclone features the unique ability to reverse the flow of the wave pump. Users can have full control of the Cyclone by having the unit pump water forward as well as in reverse which is a really unique feature for any wave maker pump.
The essential benefits of having a wave pump with the ability to reverse creates a unique push & pull wave and flow motion that is suitable for freshwater or saltwater displays. With reverse flow, pump maintenance and cleaning interval times are much improved.
The CY-1 attaches to the side of the aquarium with the included magnet mount. The magnet mount is very strong, which will keep the Cyclone securely in place while in operation. In addition, the Cyclone comes with a controller that allows users to have custom pump schedules (6 per day), master/slave wireless mode, feed times (10/20min), and other unique flows. The CY-1 can run a minimum of 132 GPH and it maxes out at 2642 GPH. With a retail price of only $129.99, we expect the CY-1 to become a very popular wavemaker option.
The Cyclone is available exclusively through U.S. distributor, Ming Trading. Click here to visit the product page.