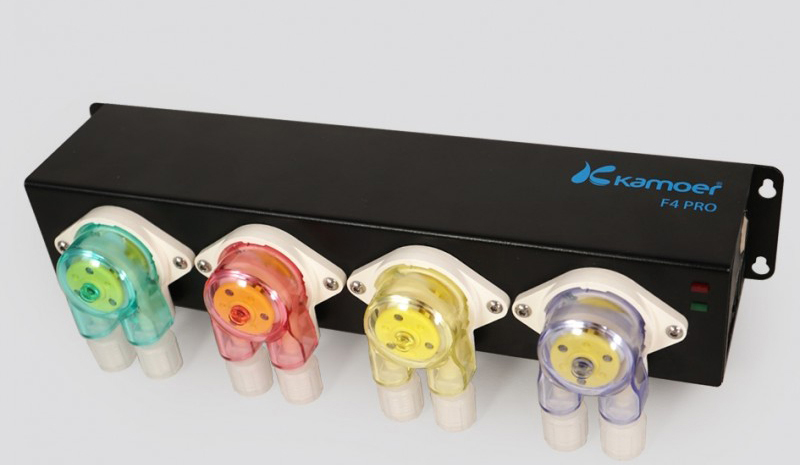 Kamoer is quickly becoming a well known dosing pump manufacturer and they have just introduced a new 4 head model called the F4 PRO. Many of you may be familiar with the X1 single head micro bluetooth doser and the single head continuous use FX-STP peristaltic doser but this new 4 head doser includes WiFi connectivity right to any Android or Apple device.
At first glance you can tell Kamoer has put some careful thought into the design of the F4 PRO WiFi doser. The dosing heads and tubing are color coded Red, Yellow, Blue & Green for easy identification. Another nice feature is that Kamoer has designed the unit to be wall mountable and shown in the photo below.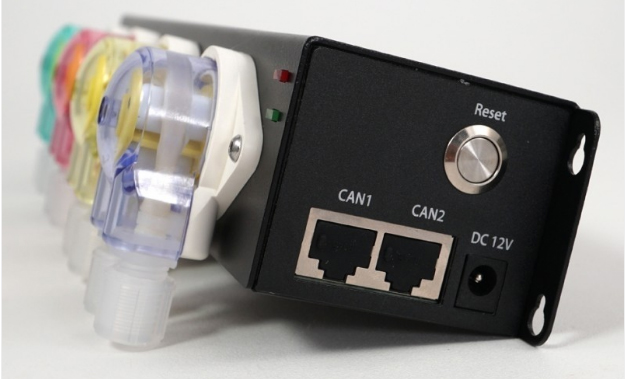 The F4 PRO doser software includes 3 operational mode choices; Manual, Auto and Custom Mode. Dosing start and stop times can be manually set via the doser app. and each head can be independently controlled. The user can even specify how much liquid is dosed over a specific amount of time or how many times dosing occurs over a specific period of time (up to 24 hours). Dosing can occur every day or up to every three days. Specific days of the week can also be selected. Each dosing head can deliver 0.1 – 9,999.9 ml per dose.
FEATURES:
WIFI Control of dosing Pump via iOS or Android devices
Software update via WIFI
Battery back up – Settings saved if power lost
Uses high quality PharMed® BPT Tubing in pump heads
Flow rate calibration for each pump
Calibration Accuracy: 0.1ml
Minimum Dosing Volume 0.1ml
2 year warranty
Dimensions: 9.84″ x 2.32″ x 1.93″ (250 x 59 x 49mm)
INSIDE THE PACKAGE:
F4 PRO dosing pump
3.5m lengths of PVC tube (Red, Yellow, Blue Green)
10Ml plastic graduated cylinder
Power adapter
Tube holder manifold / tube bracket
Mounting screws
Quick start guide