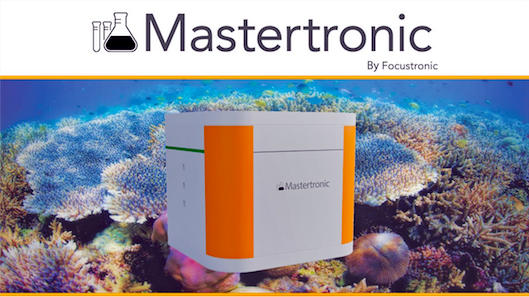 The Mastertronic is a new water measuring device that has the capability of becoming the next big thing in the reef aquarium hobby but what is it and will this benefit you and your aquarium? The Mastertronic is a new water measuring device from Focustronic that when coupled with the Alkatronic, it will measure and test for Alkalinity, Phosphate, Nitrate, Calcium and Magnesium. It also has built-in tech for potential future updates.
Focustronic has chosen what they believe to be the best test kits on the market for each water test, ensuring the most accurate test results. With a uniquely, specialized algorithm and state of the art photometric method, the Mastertronic promises to provide you with much higher accuracy and consistency than any test kit. When bundled with the Dosetronic, you will have an automated testing and dosing system for your reef aquarium.
Features & Specifications:
Standalone water measuring for: NO3, PO4, Ca, Mg (with expansion possibilities)
High accuracy & precision measurements
Calendar based scheduled measurements
WiFi  & Bluetooth Connectivity
Cloud Based
Compatible with Dosetronic
iOS & Android App
Low maintenance self priming
1 step calibration
built-in hardware & software failsafes
LED Display
Dimensions: 11.81″ x 9.84 x 10.24″ (30x25x26cm)
No word on the release date or pricing as of yet but we hope to learn more in the near future.