The Ion Director from GHL plans to begin shipping their automated water testing platform by the end of the 1st quarter of 2020. This is great news for GHL fans and those wishing to automate and control Calcium, Magnesium, Potassium, Sodium and Nitrate parameters in their aquarium.
The ION Director can be used alone or together with the GHL KH Director (KHD). Coupled with the KHD for Alkalinity monitoring and control, the IOND and KHD are the perfect tools for controlling your water parameters like never before. Each parameter can be measured and automatically controlled. If one or more parameters are too low or too high, the IOND can automatically determine how much of an adjustment of attached dosing pumps is needed to maintain stable parameters.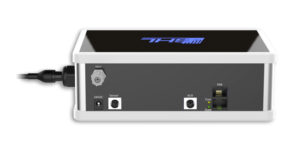 One Multi-Ion sensor and no reagents
"On going research and testing has allowed us to specially develop our own multi-ion sensor." Now there is no need for a dedicated sensor per parameter plus a reference electrode. As such, there is no requirement for single reagents per parameter. Only one multi-ion sensor and a "reasonably priced" reference fluid is required. After speaking with Vinny at GHL this morning, we learned that the sensor is a wear and tear item and it will need to be replaced every 6 – 18 months depending on daily usage (1 – 24 test per 24 hour period) and water quality. The more you test the faster the sensor will wear out. With typical usage and water quality you can expect to replace the sensor every 12 months on average. We also learned that the replacement sensor will cost $129.90.
NOTE: Above photo shows ION Director without sensor installed. Details and photos of our multi-ion sensor will be unveiled very soon.
As with many things in the reef aquarium hobby, stability is key. Rapid or dramatic changes in parameters can wreck havoc on any reef system or aquarium and GHL hopes to make reefing easier than ever with the Ion Director. Through the use of four dosing pump heads (image below), the IOND promises to perform measurements with lab-grade precision and accuracy, each and every time.
When coupled with the dosing pump, two of the 4 heads are used to transport two separate reference fluids for automatic ion-sensor calibration. This eliminates the need to manually calibrate the sensor and it ensures that each test is used with a freshly calibrated sensor, every time.
Paired with the KH Director, you can fully automate and control your aquariums most critical water parameters. The system will also integrate into GHL connect so you can monitor and analyze your results over time with the GHL logbook app tool.
Ion Director Details
Automated Calcium, Magnesium, Potassium, Sodium and Nitrate testing and control
All tests performed with a GHL developed multi-ion sensor for superior precision and accuracy
Hardware is prepared for future parameter add-ons
Uses only 2 reference fluids for ALL current and future parameters
Cost effective reference fluids
Automatic sensor calibration before each measurement
Automatic data logging and charting
Works in conjunction with a 4 pump GHL Doser 2.1
Can be used alongside GHL Standalone Doser (no aquarium controller required) or with a ProfiLux 3 or 4 controller
ION Director / Doser 2.1 Slave and Standalone packages will be available
Controllable through GHL Connect (app, web-server and cloud) and more
Pricing for the US market has not been set yet but it it will be selling in Europe for 499 EUR so it's safe to assume the the pricing for the US would be very close in price to Euro price (announcement later today). Pre-orders will also be available through GHL authorized dealers for a 15% pre-order discount price.