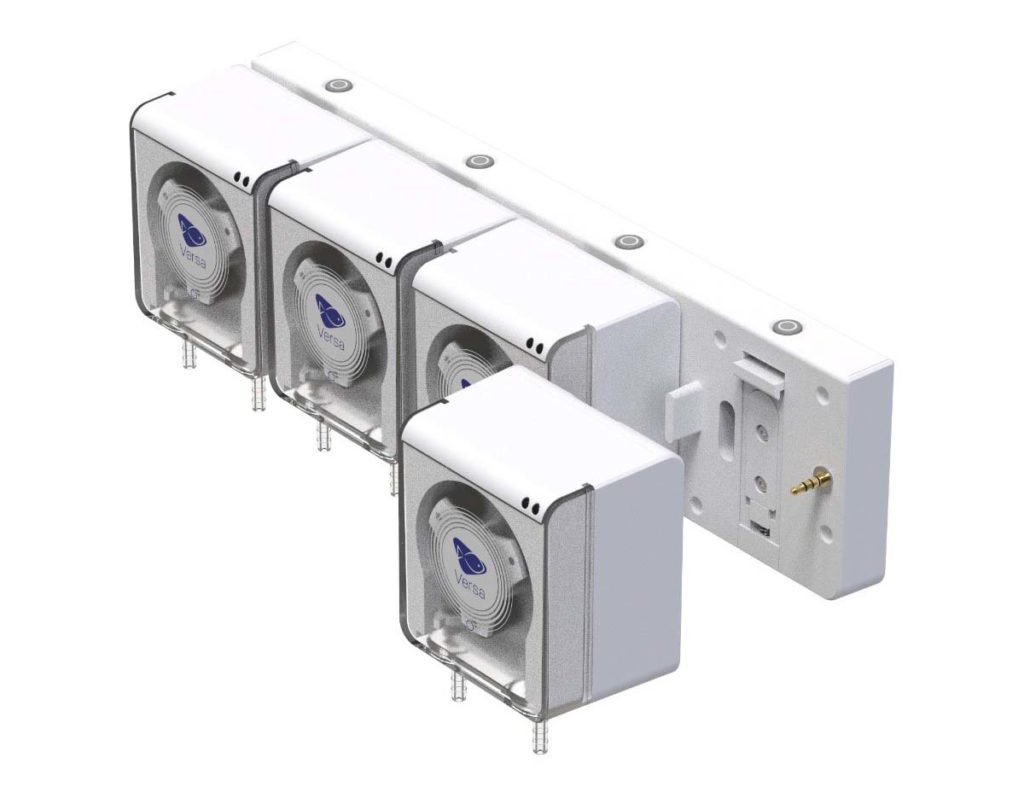 Ecotech Marine is one of the most well know and popular brands in the aquarium hobby and they just started shipping their two new Versa dosing pumps. These new dosing pumps will be the first devices used with the new Mobius platform.
About Mobius
Mobius is a brand new control platform that Ecotech Marine has been hard at work building for several years, and now it is ready for use with the newly released Versa Dosing pumps. Ecotech has planned ahead so you will soon be able to use Mobius with Vortech pumps, Vectra pumps and Radion LED lights but they are being conservative on the roll out so for now, the new Versa pumps will be the only products able to connect to the platform right away.
Mobius uses Bluetooth LE for which means connectivity will be a breeze for just about any hobbyist or aquarium shop.  Mobius is simply a better platform because devices connected to it will not require any external aquarium controller box. Additionally, no bridges (Reef Link) is needed for connectivity to your computer, tablet or smartphone. This will certainly reduce the amount of "spaghetti (AKA wiring and control interfaces) in your aquarium cabinet.
Mobius is available for free download from the iOS and Android app store. Mobius turns your smartphone or device into the control center for your EcoTech equipment including the Versa.  It is worth mentioning that the Versa pump is controllable exclusively with Mobius and is not backwards compatible with EcoSmart Live.
Versa Dosing Pumps
Versa VX-1 & VXF-1 Peristaltic Pumps
The Versa is a specifically designed peristaltic pump from EcoTech Marine. The Versa is extremely precise, robust and versatile. The Versa is capable of being used as a dosing pump, as an auto top off (ATO) pump and even for automatic water changes.
This listing is for a Single Pump & Power Supply – VX-1.  This also includes a mounting triangle to mount the pump to a cabinet etc.
The Versa utilizes a high quality DC stepper motor with a planetary drive mechanism. Once calibrated the Versa will precisely dose very small volumes of liquid or it can be setup for quick large volume dosing requirements. The pump can dispense a huge volumetric range in discreet increments or used continuously as a calcium reactor, sulfur denigrator or for use with automatic water changes.
The Versa can be purchased as a single pump (VX-1) for $149.00 or as a 4 pack (VXF-1)  for $599.00 which includes a detachable consolidated power rail base station ($149.00). Another unique feature is the base rail itself. With the base rail, individual pumps can be purchased as needed for up to 4 pumps per rail. Individual pumps simply snap into place with no fuss and additional wiring needed.
Specifications:
Min dosing volume: .5ul/min
Max dosing volume: 300ml/min
Accuracy: +/- .2ml for quantities of 1ml or less, +/- 1% for quantities of 1- 300ml (2% advertised)
Input Voltage 110-220v
Vertical Head Pressure: 18+ft (6m)
Connector Options: ¼" stem for push-to-connect fittings*, ¼" female push-to-connect female*, ¼" barb for soft-wall tubing (*denotes accessory)
Tubing: ¼" OD Polyethylene-Style Tubing for push-to-connect fittings or ¼" OD soft-wall tubing for barb fitting
Versa (without connector) – 3.45" x 3.15" x 2.34"
Versa (with barb connector) – 4.231" x 3.15" x 2.34"
Base Station (no pumps) – 12.80" x 3.52" x 1.51"
Base Station (4 pumps with barbs) – 12.80" x 4.25" x 3.21"
The base station includes a tactile button for each pump to manually dose or prime a pump (both functions are also available through the Mobius app).
The Mobius app is required to create a 24 hour dosing schedule for the Versa.
The Versa has an impressive list of features:
Large range dosing capability (.5 ul – 300 ml/minute)
Heavy Duty Construction
Consistent and Reliable Stepper Motor with Planetary Gear Drive
Safeguards against over-dosing and user error
Bluetooth onboard
Mobius Programming Allows For:
Continuous dosing over time
Up to 30 discreet dosing points
3 Dosing Modes; Automated, Calculated or Manual
Dosing as part of scenes and routines
Integration with other EcoTech/Mobius equipment (eg. Feed mode)
Capacity of over 200 Versa pumps per system
1 Year Parts and Labor EcoTech Warranty
Quiet Operation
Modular Design
Easy to maintain
Included Barbed Connector – Two Optional Interchangeable connectors also available. (Push to connect stem, Push to connect female).
Stepper Motor and Planetary Gear drive: This drive configuration is optimized for precision and longevity. Two important characteristics for a market leading Peristaltic Pump.
We are excited to announce that our 1st batch of Versa pumps arrived this week but they are already sold out.  Please be patient because Ecotech is limiting the release of the pumps for the 1st month or so. We expect our 2nd batch of pumps to arrive by the end of January. They are available for purchase at Aquarium Specialty and Premium Aquatics.