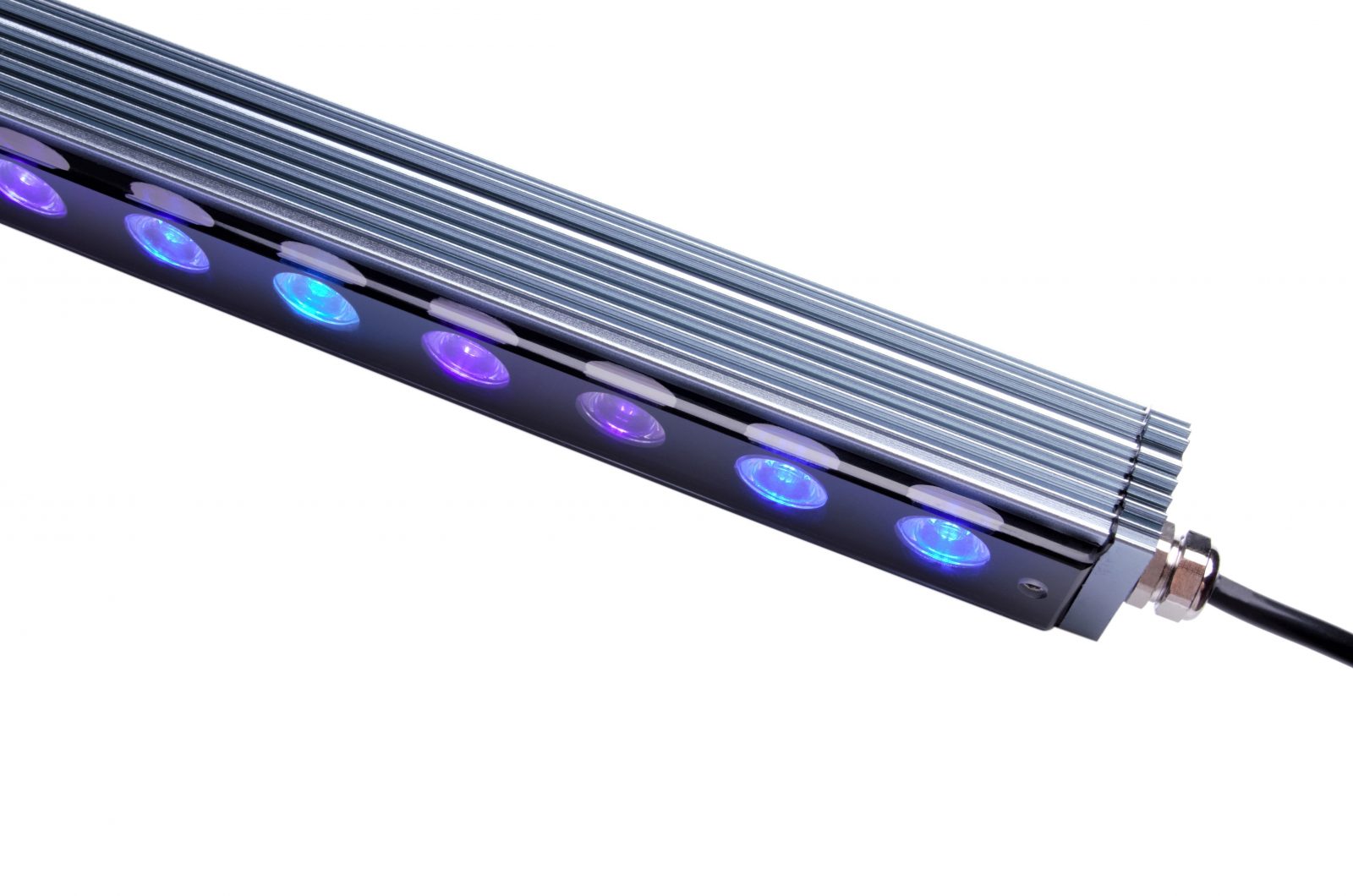 Orphek just made its official Gen 3 light bars release announcement on Memorial Day and we are here to share the news about this 3 generation OR3 LED lighting source.
The OR3 light bars are available in 3 lengths; 24″ (60 cm), 35″ (90 cm ) and 48″ (120 CM). Behind each newly designed lens is a high efficiency 5 watt dual-core LED driven at 50% of max power, for optimal lifespan and PAR performance. Running at 50% power the 5w Dual-Core LEDs run cooler with minimum loss to PAR numbers over the lifespan of the fixture. Also, Orphek states they have improved the lens on the new light bars but their site does not go into specifics on the new lens design but we noticed some subtile differences in the video.
Color Option – Blue Plus / UV Violet / Day Plus
Many LED lighting strips only come in blue, white or a combination of blue and white. For that reason alone we can't wait to get our hands on the OR3 light bars.
Ways to Utilize the OR3 Light Bars
Combine the OR3 LED Bars with Orphek Atlantik & Atlantik Compact to create a wider spread & more PAR.
Combine OR3 LED Bars with other brands for extra pop, health and growth.
Combine with T5 fixtures for improved PAR levels, coloration and growth.
Use multiple OR3 light bars for complete tank lighting
OR3 150/120/90/60 Reef LED Lighting X T5
Orphek has been offering panel style LED lighting solutions for the last 10 years, providing a diffused light source and delivering the proper intensity and spectrum for reef aquariums.
Orphek developed the light bar as an affordable LED option with full length coverage similar to a T5 bulb but with more pop and intensity, spectrum & efficiency that LED technology has to offer.
OR3 Features
OR3 bar LEDs use about 50% less power consumption than T5 bulbs.
No maintenance and no bulb replacement costs every 6-12 months as with T5.
Coral acclimation period not required for corals
Two Times the output vs a comparable T5 bulb
Heat sink dissipates heat up and away from the waters surface
Each OR3 bar has multiple LED color chips providing a balanced spectrum for each bar.
OR3 LEDs penetrate the water column giving better performance at depth.
Creates shimmer effect desired by many aquarists.
Two standard spectrum choices with customized options available for special order.
Just 2 x OR3 bars, a combination of 1 x Reef Day Plus and 1 x Blue Plus will deliver PAR of ~400 at the surface and ~250 + mid aquarium mounted 20cm above the water level.
Retail Pricing
OR3 90 $150.00
OR3 120 $170.00
OR3 150 $190.00
Click Here to visit the Orphek website.