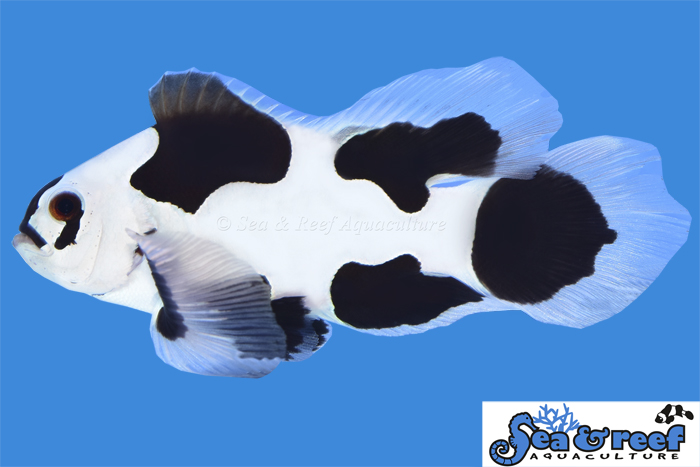 Once again Sea & Reef is in the news with a new designer clownfish.
A few days ago Sea and Reef let us know about a new designer clownfish they have been working on and now its available as a limited release to aquatic stores across the country.
The Longfin Black Storm Clownfish is the eighth Longfin Clownfish that was developed though captive breeding at the Sea & Reef facility in Franklin, Maine and it is probably my favorite.
Longfin Clownfish are not new to the hobby, but Sea & Reef's new Longfin Clownfish have a much different look to them. Their longfin clownfish have long flowing fins with more rounded, translucent margins. This sets them apart from the typical longfin strain that display jagged, stiff fins with uneven edges. The reason for the difference in appearance is due to different genetic traits from Sea & Reef's broodstock.
It was bound to happen that the Storm Clownfish gene and the Longfin gene were to meet at some point. Soren Hansen, the owner of Sea & Reef stated, "We observed with great excitement the very first batch of Longfin Black Storm Clownfish as they went through metamorphosis and grew their beautiful, even-edged fins. They quickly revealed some spectacular pattern variations.The black coloration develops identical to Black Storm Clownfish. Early juvenile fish are dark brown, but turns jet black as they grow and mature." Soren goes on to say, "The Longfin Blackstorm clownfish were created by breeding our Black Storm Clownfish with our Longfin Black & White Ocellaris Clownfish. It is an astonishing fish and we can't wait to hear the feedback from you and your customers. I know everyone at the Sea & Reef hatchery is excited about them."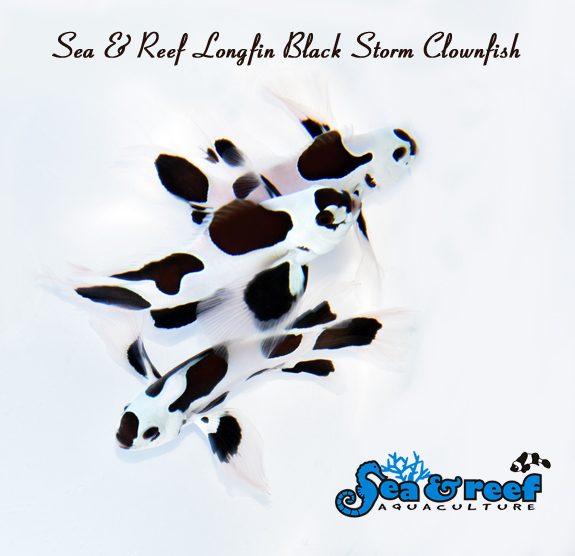 Admittedly, we haven't purchased any of the longfin strains to date but I just may have to pickup a couple of these on our next order. The standard Black Storm clownfish are my favorite clownfish from Sea & Reef so it only seems logical to order in a pair of these beauties.
If you are interested in picking up the longfin Black Storm clownfish then visit your local fish store on online store as Sea & Reef does not sell directly to the public.