By selective breeding, Sea and Reef has managed to add the longfin gene to their popular Midnight Lightning Clownfish. This is good news for those that are into designer clownfish and it brings the total up to eight longfin strains for the Sea & Reef team.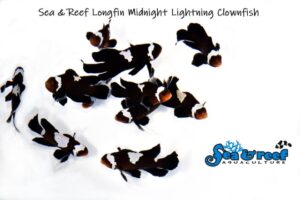 The Midnight Longfin clownfish is a black and white fish with a jagged head stripe and a lightning bolt pattern between the first and the second dorsal fin. The patterns can vary from one fish to another but the majority of the offspring possess the aforementioned color pattern. Early juvenile fish start out more brown than black. As the fish ages and they grow larger, the brownish color darkens to a nice midnight black coloration that contrasts nicely with the "white lighting strikes".
Sea & Reef Longfin Strains
Which one is your favorite?
Learn more about Sea & Reef by visiting their website. Please note, Sea & Reef only sells to retail stores and they do not sell to the general public.