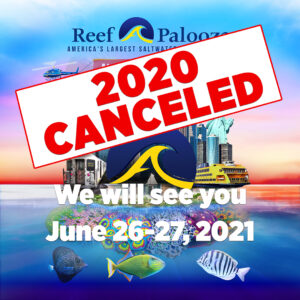 This year has pretty much been a bust for aquarium trade shows around the US and today's announcement pretty much sums it up. Lets hope 2021 will be the return to some assemblance of normalcy. Please keep reading to see the official announcement from the crew at Reef-A-Palooza.
New York Show Canceled
Due to the continued uncertainty caused by the COVID-19 global pandemic, and our concern for the health and safety for our exhibitors, attendees, and staff, our team at Reef-A-Palooza has made the difficult decision to cancel the New York 2020 show.  The show will now take place June 26-27, 2021 at the Meadowlands Convention Center.
All current booth reservations, sponsorships, and payments will be moved to the 2021 show (refunds will not be issued). You will retain the same booth you originally signed up for in 2020.
Hotel reservations booked at the Embassy Suites Secaucus through the Reef-A-Palooza group rate will be cancelled for your convenience with no penalty. Please do not call the hotel to cancel your reservation.  You will receive a cancellation notification email directly from the hotel.
This has been a difficult decision for us all, as we were looking forward to bringing the reefing community together.  We look forward to you joining us for Reef-A-Palooza New York 2021.  Thank you for your continued support of the show and we wish for everyone to stay safe and healthy.
Sincerely,
Reef-A-Palooza New York
Show Management