Camera Phone Filters have become very popular and Orphek has reconized this with the introduction if their new Optical Filter Glass Lens Kit.
The new lens kit features a set of 4 different lenses made from high quality glass and the kit promises to be compatible with any camera phone including the new Apple iPhone 12 Pro models. The lens kit was specifically designed for photography of corals and other aquarium life. The kit can also be used underwater if your phone is waterproof.
Orphek set out to design a filter that achieves color accuracy by combining the 15,000K and 20,000 filters that are included with the kit. Like other manufactures that offer a filter, the Orphek filters are stackable. According to Orphek, stacking the 15K and 20K filters reproduces the exact natural look of your aquarium as seen in the photos below.
Glass is far more resistant to scratching than acrylic and Orphek wanted to produce something that was more durable than some of the other filters on the market. Also glass can produce a cleaner looking photo with no blur as long as the filters are kept clean. Orphek glass optics are clearer, more durable and more precise than polycarbonate filters.
With the Orphek MACRO Lens for shooting close – ups you will find out how flexible is this magnification accessory for smartphones that lets you take close – up photos with incredible definition: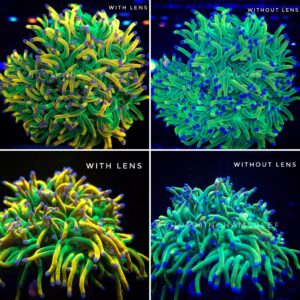 The kit includes:
A soft zippered carrying case with foam padding
Filter Clip
4 Filters
cleaning cloth
After looking online we found these to be selling for $24.99 to $30.15. To learn more about the new Orphek Filter Lens Kit, please visit their website by clicking here.