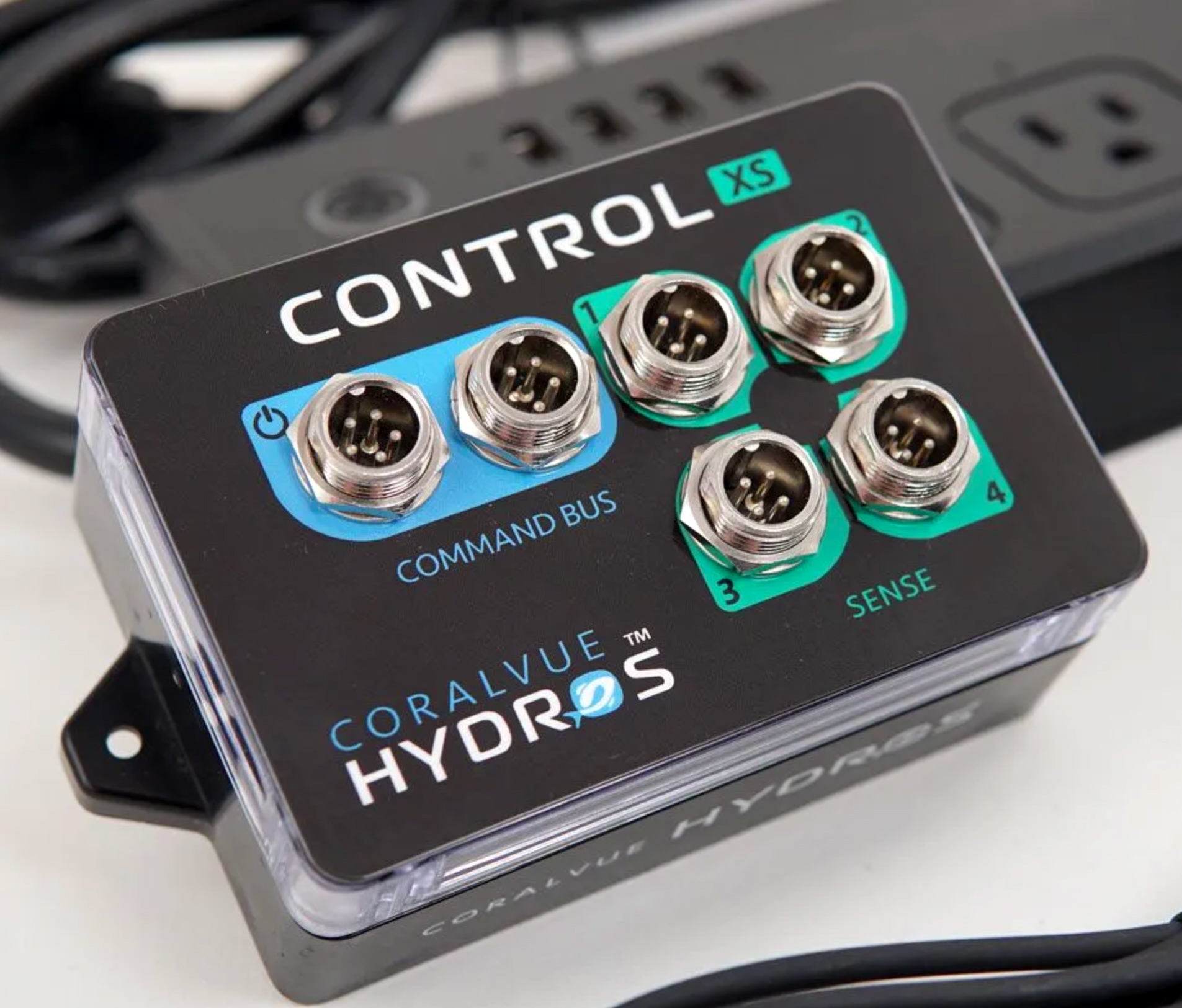 The controller market is continuing to advance with more control platform options as CoralVue and others introduce new devices to help us make our aquariums easier to run and less problematic. And the new Hydros Control XS is another great example of new advancements in the aquarium hobby.
The Hydros XS is an affordable controller option that includes 4 sense ports and 2 BUS command ports that allows you to monitor temperature, skimmer collection cup levels, detect leaks, control outlets, send alerts and more.
The Command BUS powers the Control and also communicates with other HYDROS devices for ultimate protective capability. Nothing is failsafe, but the Hydros XS could potentially save your aquarium from disaster.
The HYDROS App allows you to create rules and set schedules to control Hydros 4-Outlet WiFi AC Power Strips and Smart Outlets. The App will allow you to turn on or off different pieces of equipment like pumps, powerheads, lights, heaters, algae scrubbers, UV sterilizers, protein skimmers and other devices.
The Hydros XS Controller (controller only) will sell for $159.99 and the starter kit (above) includes 1 x Control XS Unit, 1 x power supply, 1 x temperature sensor and 1 x 4 outlet WiFi AC power strip. Both units include the free Hydros App. If you want to learn more about the product and its capabilities then check out the 55 minute livestream video that was posted to YouTube a few days ago or you can visit the CoralVue website to learn more.
Hydros Control XS Capabilities
Control your HYDROS device(s) from anywhere in the world using the HYDROS cloud-based app
Ability to monitor and control your HYDROS device(s) locally through WiFi
Dual-core 32-bit processor that allows control decisions to be made within each device
User configurable Alerts and Notifications
HYDROS devices are made to function and work around the harsh environment of a marine aquarium. The enclosure is IP-65 rated and aircraft-style connectors ensure long term reliability in the face of splashes and corrosive salt spray.
The Control XS is due to hit stores in early 2021 and pre-orders are available though participating authorized CoralVue dealers.