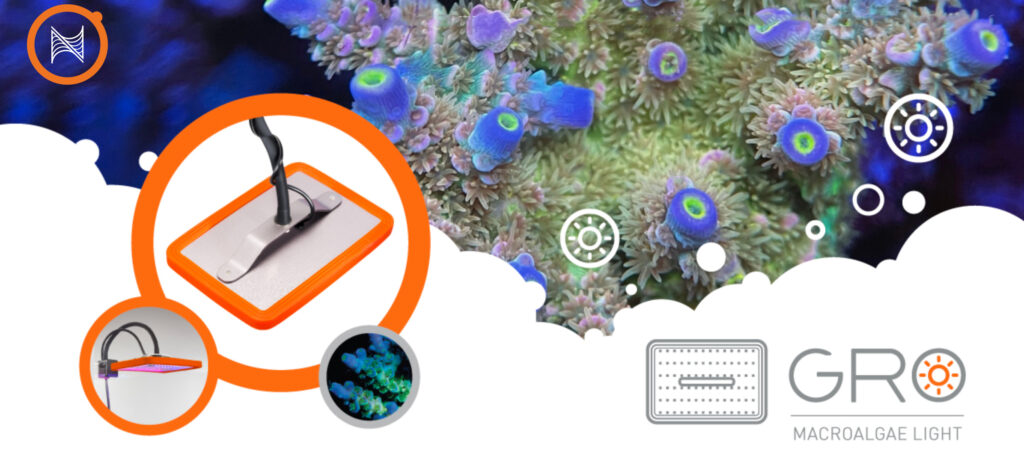 The GRO will soon be available to authorized online and retail stores across the US. And as of today we are able to make the news available to the aquarium community.
Neptune Systems, the maker of the popular aquarium controller platform has developed a 20 watt LED light designed to common types of macro algae for the purpose of nutrient export and cultivating a healthy population of copepods.
The new light features 80 individual low watt LED diodes with a specialized light spectrum for maximum macro algae growth.  The arrangement of the LEDs virtually eliminates hot spots sometimes seen in other refugium LED lights.
Neptune's research has shown that nearly all other refugium lights cast light in a round, conical pattern. This is not optimal because refugiums are typically square or rectangular. Light from a concentrated single source creates unevenly distributed light, causing hot spots that can burn or stunt growth.
The left side of the picture below looks almost identical to one of our refugiums in the coral farm so it will be interesting to see if the new GRO light eliminates the burned areas in our refugium
"These photos were taken of a large area of macroalgae in a refugium that was lit for 10 months with the GRO on the right side, and one of the most popular and praised refugium lights on the left – notice how the round light stunted growth in the center and created a burned ring of algae".

The new GRO comes in two different bracket setups. The GRO-F model has a flat bracket for mounting to the surface of the sump while the GRO-P model has a unique pipe style mount for attaching to a PVC pipe. Both versions have a MAP price of $129.95 making it one of the lower priced refugium lights on the market today.
Both mount types have an 18″ long, flexible gooseneck attached to one of two mounting brackets. One mounting option clamps to a flat edge such as the edge of your sump or support on your stand. The other mount clamps to 3/4′ – 1″ hard pipe (PVC) . You get to choose which mount best fits your aquarium or refugium set up.
For more information please visit Neptune Systems.