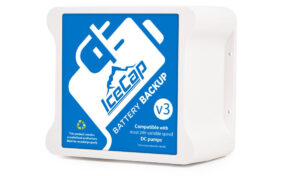 Sometimes hindsight is 20/20 for some and that is no exception in the aquarium hobby. Many of us here on the East Coast either experienced or are still experiencing a major winter storm. With nearly 130,000 power outages and counting, it is vital to have some form of backup power to keep our tanks going. Aquariums can go a few days or more without lighting but maintaining the water temperature and water circulation is imperative. Having a  generator on hand for such emergencies is great, but for some hobbyists this is not feasible.
There is one simple and affordable solution that addresses water circulation concerns during a power outage.  CoralVue recently released their 3rd generation IceCap Battery Backup that can keep aquarium pumps running for hours. The IceCap V 3.0 can connect up to two pumps. To double the backup run time connect two battery backups for further protection. One of the biggest benefits of this battery backup is its compatibility with most 12 – 24V DC pumps. This is one advantage the IceCap battery backup has over competing brands that only connect to a specific pump. The IceCap Battery Backup simply plugs in-line with your flow pump and it automatically restores power to the pump in the event of a power loss. The V 3.0 battery backup kit includes 1 battery, a power supply and pump adapters along with a user guide. Retail is $142.99 at most stores including ours Aquarium Specialty  and one of our sponsors, Premium Aquatics.
Connecting an aquarium heater is not an option for a battery backup so heating the room with a natural gas, propane space heater or generator may be your only option in the event of an extended power failure.
IMPORTANT: NOT compatible with Reef Octopus VarioS Pumps, EcoTech pumps, Tunze, or AI Nero pumps.