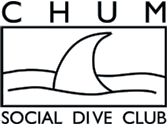 I was contacted by the vice-president of the local City of Houston Underwater Mariners, or CHUM, to give a presentation about saltwater aquariums at one of their monthly meetings. I will be highlighting the basics of the saltwater and reef aquariums, as well as livestock they may find locally and abroad. I will also cover the lionfish population explosion in the Atlantic and Caribbean, the BP oil spill to a lesser extent, and how to act while diving on wild reefs (e.g. not taking livestock). I've given brief discussions for my local aquarium club, but this venue will feature far fewer familiar faces, so hopefully my nerves won't get the best of me.
More About CHUM Club
CHUM is a local SCUBA diving club that promotes various diving activities, organizes group trips, educates current and potential divers, and discusses marine life a diver may encounter. The club was founded in 2004 by a group of divers to promote diving in Texas and share their collective diving experiences from around the globe. The club holds regular monthly meetings, held on the third Thursday every month, where they discuss club business, talk about diving trips and equipment, and bring in guest speakers. CHUM has approximately 750 members and over 7,700 pictures from dive trips that these members have uploaded.