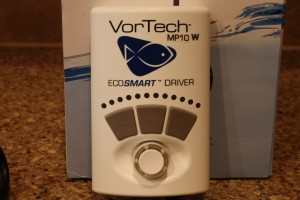 We were very recently sent an EcoTech Marine VorTech MP10w ES from our newest sponsor Aquarium Specialty for a product review. The pump was working spectacularly for a few weeks, but randomly stopped working. The EcoSmart controller was no longer powering up and the pump wasn't spinning. Unsure of the issue, I unplugged all of the equipment and tried the setup on a different power outlet. The power supply LED was on, but the controller was still dead. After exhausting all of the possibilities imaginable, I contacted EcoTech.
EcoTech responded in less than 24-hours and suggested what the issues might be, while also directing me to the  Product Service and Repair page on their website. From that page, I was directed to fill out a Customer Support Form to expedite any repairs that were potentially needed. I filled out the form, boxed up the pump, and shipped it off. The pump arrived at EcoTech on Thursday and I have already received a brand new replacement on Tuesday.
Continue reading below for other reasons EcoTech Marine's customer service is top notch.
In my case, I wasn't in dire need of a replacement pump, so sending it to EcoTech Marine wouldn't be an issue. However, many aquarium keepers need to restore water flow as soon as possible. Realizing this, EcoTech offers to send a brand new pump to your home before needing the malfunctioning pump in return. You would have to provided credit card information, which is a completely reasonable request, but as soon as EcoTech receives the original pump, your card will be refunded. Also understanding any inconvenience incurred by the aquarist, EcoTech also offers to send a pre-paid shipping sticker to help ease the process.
Despite the headache of having to deal with non-functioning pump, EcoTech handled the replacement wonderfully. Their customer support was spectacular from day one and because of this, they will continue to retain customers and make aquarium hobbyists happy to buy their products.
Stay tune for a video review of our brand new VorTech MP1ow ES. We will also be giving this pump away to one lucky AquaNerd reader, so be sure to check back for updates on the giveaway.