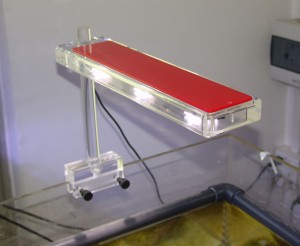 Last week, we brought you the CoralVue Solarian LED fixture, which is actually customizable to the hobbyist's needs. It seems CoralVue is also targeting the nano crowd with a miniature version of the Solarian. The Solarian Mini will also be customizable, but it features something else that, until now, has yet to be seen in the aquarium hobby. The mini will be touch activated. You can actually dim, or even turn off, the LEDs simply by touching this mini fixture.
A few other features of the Solarian Mini include multiple mounting options, allowing you to hang the light, direct mount it to a canopy, or use the provided acrylic tank mount. Multiple Solarian Minis can also be connected together, but CoralVue hasn't said if the lights will be synced so you only have to touch one to dim them all.
This fixture will be available by the end of December 2010 or possibly January 2011. No details on pricing are currently available.