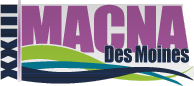 The Marine Aquarium Conference of North America, the most attended to aquarium conference in the US, is currently running a discounted price on their event passes, but the price won't last long. In fact, the discount ends on 12/31! On day one of the new year, the price will shoot up to $150 per. So get your tickets while they remain at the $89 price point.
MACNA 2011 will be hosted in Des Moines, Iowa by the Greater Iowa Reef Society. The guest speaker lineup is absolutely stacked, featuring Matthew Wittenrich, Anthony Calfo, Julian Sprung, Sanjay Joshi, Kevin Kohen, and several more. A giant raffle, with over $10K in prizes will also take place. Tickets for the raffle will be a buck each, but there are some decent bulk discounts available as well.
Continue reading below for the official pricing announcement from MACNA.
Don't miss your chance at discounted MACNA tickets.

Full Conference Passes are only $89 and includes:

Friday evening dinner reception with free drinks & entertainment
World renown speakers including Charles Veron, Sanjay Joshi, Anthony Calfo, Julian Sprung and many more
Demonstrations in the trade show hall by industry leaders
Over 150 booths with the latest innovations & hottest corals
Awards Banquet with presentation & entertainment
Huge Raffle worth tens of thousands!

This is one event you don't want to miss so REGISTER today. Ticket discount expires 12/31/10!

Sept 9th-11th in Des Moines, IA

www.MACNA2011.com