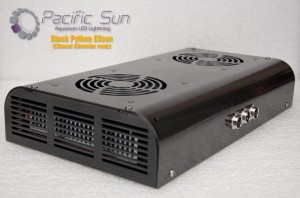 Pacific Sun is releasing a new LED light fixture for December, called the Black Python EXcon. These Cree LED powered light fixtures have three active 1-10V input ports (or channels), allowing them to be connected to and controlled by various aquarium controllers like the GHL Profilux or Neptune Apex. By connecting the EXcon to a controller, the aquarist will be able to change the light's color, simulate sunrise and sunset, and even control moonlights.
Three models will be available in 110w, 160w, and 200w units. Pricing is lacking at the moment, but given the similarity of this light fixture with other models offered by Pacific Sun, I would expect them to start no less than $1000 USD. There also no word on whether or not these fixtures will come in master or slave forms. Similar LED fixtures from Pacific Sun do come as master/slave units, and I would expect the same from the EXcon.
Continue reading below for a couple of more pictures.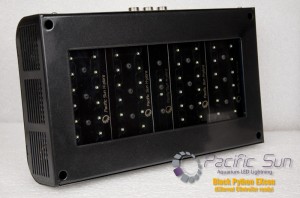 Notice that there are no optics or reflectors built into this light fixture.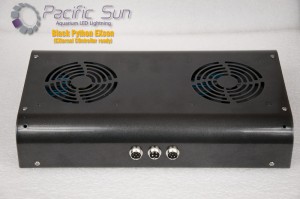 Here are the three 1-10V channels located on the back of the unit.