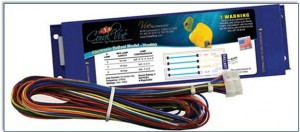 Back in December, we broke the news that former IceCap president Christ Conti was moving over to CoralVue. In that announcement, we had hoped CoralVue would be adding to their lighting equipment lineup by developing new products, or at least re-branding the popular IceCap ballasts. We even tossed out the idea of a CoralVue 660 fluorescent ballast. Well it seems our predictions have come true. CoralVue has added a re-branded version of the 660 and 430 ballasts to their website. Called the Vue660 and Vue430, these ballasts were developed using the same technology as their IceCap counterparts, but they have also been updated. They use higher quality, non lead integrated components that will allow the ballast to run cooler, lowering ballast failure rate.
In addition to these new Vue Technology ballasts, CoralVue will also offer product support to IceCap 660 and 430 ballast owners. They announced today that they will service IceCap fluorescent ballasts for $60 (plus shipping), and all repairs will come with a one year warranty. On top of that, CoralVue promises a 3-4 day turnaround time on their repairs.
Continue reading below for the official product information of the new Vue660 ballasts and CoralVue's announcement regarding servicing the IceCap ballasts.
CoralVue will soon release an electronic ballast similar to the popular IceCap 600 for driving fluorescent lamps called the Vue660. The Vue660s are developed with the same technology as the classic IceCap 660 ballast but with some updated improvements like utilizing higher quality, non lead "RoHS Compliant" integrated components for an environmentally safe product which will also allow the ballast to run cooler reducing the ballasts failure rate.

Our Vue660 will drive all VHO, PC and T5 High Output lamps in various combinations up to 4 lamps up to 440 Watts. They offer reliable yet silent operation and come with a 3 year warranty. You can expect great performance and exceptional quality from the new Vue660 ballast.
Below is CoralVue's announcement (via email) regarding their support to IceCap customers:
CoralVue offers product support for IceCap 430 & 660 ballasts

CoralVue will be offering product support and service for IceCap 430 and 660 ballasts starting the week of 1/17. The Goal is to provide some relief to those IceCap owners struggling to get service or support for their ballasts. In providing this service, we hope many 430 and 660 owners can continue to use the product with the confidence that if something goes wrong, they can get support.

All repairs will come with a warranty against defects in materials and workmanship for a period of ONE (1) year from the date of service. Repair service will be provided for a low fee of $60.00 plus shipping. There will be a quick 3-4 day turn around on repairs should put some minds at ease.

Former IceCap customers can be notified immediately about our new service that will begin the week of 1/17. Chris Conti, former President of IceCap and lead developer of the 430 and 660 ballasts will be the point person for any service inquiries. As one of the original designers, Chris is intimately familiar with the product and is looking forward to answering any questions regarding this repair service or the product in general. We hope this service will aid those in need of repairs or service to IceCap 430 and 660 Ballasts. If you have a question please contact Chris at chris@coralvue.com or by phone at 985-607-8655.