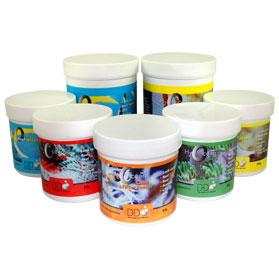 D-D The Aquarium Solution, the supplier of great aquarium products like Deltec protein skimmers, is releasing an entirely new lineup of aquarium foods. Called H2Ocean Pro+, these foods will target SPS corals, LPS corals, clams and other filter feeders, and fish. But with all of the foods on the market, how does the H2Ocean Pro+ Differ?
Based on claims from D-D, this food is made from all natural ingredients. These include spriulina, fish, tuna, mussel, clam, decapsulated brine shrimp eggs and other marine sourced proteins. D-D also claims their new foods are highly digestible. Because they use "advanced production methods" and hand picked ingredients, the food can be processed much more quickly, with the nutrients being absorbed more efficiently. Additionally, the H2Ocean Pro+ has been designed to provide a range of particle sizes for specific animals. Because different corals and invertebrates use different modes to feed, food particle size can be extremely important. For example, Acropora cannot eat large items like krill, though a large brain coral could. Lastly, and more interesting in my opinion, this food product has been designed to specifically trigger a feeding response. Most corals naturally know when food is present. However, they may not always respond to those stimuli. D-D is enticing corals to feed by including key soluble amino acids into each of the different foods. These amino acids are supposed to act as a chemical scent to incite a feeding response from fish and corals as soon as the food enters the tank.
Full descriptions and images of each of the different types of foods below.
H2Ocean Pro+ Clam and Filter Feeder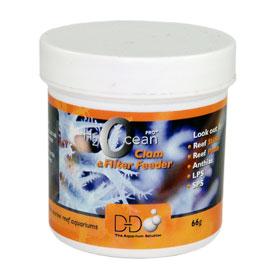 Will benefit all filter feeding species and will be readily accepted by clams, small polyped gorgonians, tube worms and other corals which require the smallest food types. It is especially good for increasing the number of copepods in your system or for enriching brine shrimp.

The majority of fine particles in this product will pass through filter socks and filter floss so by using it you are feeding your tank and not collecting it in your filters.
Is a smaller particle food designed with the perfect micron size specifically for feeding SPS corals in reef aquariums.

It contains the same soluble amino acid trigger and a variety of fine particle marine proteins that will remain suspended in the water and allow extended feeding from the water column.
Is a purpose engineered marine aquarium food with slightly larger particles that are perfect to feed and enhance many LPS corals and smaller fish.

We have included a soluble amino acid trigger to stimulate the corals and fish into feeding mode with large but light particles that will remain in suspension whilst they feed.
Reef Sticks have been designed to provide a nutritional diet for all fish and corals in the marine aquarium and are in the form of a soft stick which can be fed whole or crumbled into the water to release clouds of fine particles which will also feed corals.

Reef Sticks contain the same blend of specially selected marine fish and shellfish extracts chosen to have a high digestion capacity and because they are soft they are taken readily by more finicky fish. They have a complete balanced amino acid profile and contain our unique soluble protein feeding trigger.
An exclusive range of aquarium foods specifically engineered to the highest quality standards using advanced production methods and incorporating a highly affective feeding trigger.

The paste contains a blend of specially selected fish and shellfish extracts together with a sticky nutritional protein based binder allowing it to be stuck onto the glass or living rock. Reef paste has a complete balanced profile and contains our unique soluble amino acid feeding trigger to enhance the feeding response in both fish and corals.

An innovative way to provide a nutritional diet for all fish and corals in the marine aquarium over an extended natural feeding period.