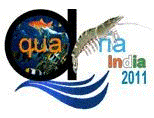 I received a very interesting email yesterday. It was an invitation to the Aqua Aquaria India 2011 conference in Chennai, India. Having never heard of such a conference and not realizing India had such a thriving aquarium and aquaculture industry, I began to dig a little deeper. The AAI 2011 conference was created by the Marine Products Export Development Authority (MPEDA). The MPEDA, which was created in 1972, functions as a nodal agency for the regulation, development and promotion of marine product exports for India's Ministry of Commerce.
Interestingly, Aqua Aquaria India is actually derived from two separate past events, Indaqua and Indaquaria. Both of these events were also organized by the MPEDA. The Indaqua conference has occurred four times in non-consecutive years (1993, 1995, 2007 and 2009), with each expo focusing on aquaculture in relation to the fisheries industry. After Indaqua's success, the MPEDA shifted its focus to ornamental fish with Indaquaria. This event has only occurred once, in 2010, and was associated with organizations such as Ornamental Fish International (OFI).
Aqua Aquaria India 2011, which is scheduled for February 6-8, is said to be one of the large shows in Asia in its category. The event will focus on international aquaria and aquaculture, and will have approximately 230 exhibitors. Aside from participation by exhibitors and guests from both India and worldwide, over 750 fish and shrimp farmers are likely to attend.
We will try to dig up more information on this event. In fact, I have a very good friend who lives in neighboring Pakistan who might be able to help. So stay tuned for updates and our exploration of the aquarium industry in India.