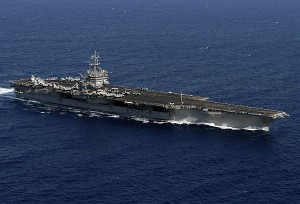 According to a recent article on the NavyTimes, the US Navy is planning to dredge acres upon acres of coral reef to make way for a new aircraft carrier berth. For those who are unaware, a berth is simply an area in a harbor where a boat or ship can moor. In additional to the mooring station, an additional basin will need to be created for the 1000ft long carriers to turn around in. This new Naval berth is planned to be on the island of Guam, and news of the possible coral destruction is causing great concerns for locals. The locals are primarily concerned that the dredging will wipe out important marine life, affecting both their economy and the ability of fishermen to feed their families.
The specific area the Navy want to dredge has not been decided upon at this point. The spots have been narrowed down to a couple possibilities, but each requires about 25 acres of coral dredging with an expected 45+ acre fallout zone. The total devastation is estimated to cover over 70 acres total. That's a huge area. The fallout zone will mostly come from excess silt in the water from the dredging, as well as the massive ships blocking out the sun for weeks on end.
The original article on NavyTimes has a lot more information, so I highly recommend reading it.