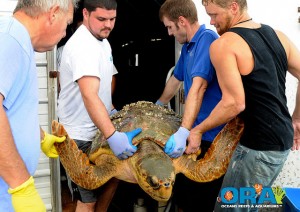 When thinking of Florida, the first things that usually come to mind are beautiful weather, plenty of sunshine, white sand beaches, or potentially even oranges or some other type of citrus fruit. Unfortunately, Florida isn't like this year round. During the winter months, the "Sunshine State" can get quite cold, with temperatures getting below freezing in some areas. This type of weather not only damages citrus crops (which often makes the news), but it also wreaks havoc on the animals that require near tropical temperatures to thrive. Over the last few months, Florida has been hit by several cold spells, causing immediate danger to sea turtles in local waters. During these events Oceans Reefs and Aquariums stepped up to take care of the cold stunned sea turtles. The turtles were taken into the ORA facilities, housed until the weather warmed back up, and eventually released when they appeared healthy enough.
The guys at ORA are simply amazing. Their dedication to oceanic conservation is virtually unrivaled by anyone else associated with the aquarium industry. Keep up the spectacular work guys!
All images courtesy  of ORA. For more images of ORA rescuing sea turtles in Florida, please visit their Facebook Page and Flickr Photostream.