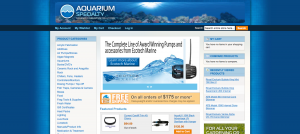 After several years of operating on the same design, Aquarium Specialty, an online vendor of a seemingly unlimited amount of aquarium equipment, is getting a site revamp. This new website, which has taken over a year to develop, isn't completely different aesthetically, but it does have more functionality and finally some larger images! I've always complained to Scott, the owner, about the size of the images on the Aquarium Specialty site, but it was an issue he was already aware of and is now getting fixed thankfully.
Several new features will slowly find their way onto the redesigned site. I haven't been told exactly what those are, and I couldn't even begin to guess what they may be because I never had issues browsing their online store or placing orders. But we'll see where the new features will take the site. We've also been told that the store will be expanding its offering of aquarium equipment. Aquarium Specialty already offers products from a ton of different aquarium product manufacturers and they routinely update the products they offer, so I'm not sure specifically what products new will be offered. But I've been told the total amount of products offered will increase dramatically.
The new website is scheduled to go live later today, barring any technical hiccups of course.
Update: The site release has been pushed back a couple of days to tweak a couple of things.