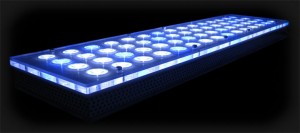 Way back on July of last year, we introduced a new (at the time) LED lighting company called Orphek. We were initially blown away by the sleek Orphek LED fixtures and immediately had to share our discovery of this company with the world. We originally discussed their 120watt PR156 LED fixture, whose PAR output is astounding by the way, but since then they have released more products, including the PR-25 LED spotlight for nano aquariums.
The lighting manufacturer has decided to come on board with us here at AquaNerd, and we're hoping to get our grubby little hands on some of their great looking LED products in the near future.
Thanks again Orphek for supporting us!