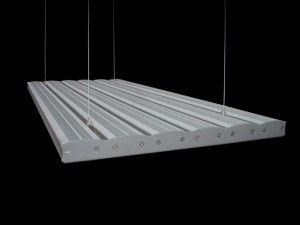 Late last month we discussed the Genesis Hybrid T5HO and LED Fixture from the Italian aquarium illumination company Sfiligoi. Using a very similar platform, Sfiligoi also has an all LED fixture that uses the same modular and upgradeable strips. Called the Genesis Modular LED Fixture, this light will feature nothing but dimmable and RGB Cree LEDs, along with fully upgradeable and interchangeable LED strips, and a few different color options. Because the LED strips are interchangeable, the color combinations are quite extensive. You can mix and match blue, white (8500K), and even RGB LEDs into a single composite fixture. Additionally, the Genesis can be controlled by a handful of controllers, including Profilux, Neptune Apex and, of course, the Sfiligoi Link.
As for the sizes of the fixtures, the Genesis is offered in the typical lengths of 24″, 36″, 48″, and 60″. The number of modules offered are 3, 6, and 8, giving the fixtures enough versatility to cover just about any sized aquarium. Even though this light isn't news to the aquarium world (it was announced last summer), the Genesis has only recently become available to purchase. They will also feature a two year warranty on all of the LEDs, with one year on the components.
More images and features listed below.
Sfiligoi Genesis Modular LED Fixture features:
– Modular design enables unlimited configurations
– CREE Certified LED technology
– Available with up to 139 lum/watt output
– LED color choices of Blue, Cool White(8500k), and RGB
– Available in Dimmable and also RGB version using 0-10v DC or PWM signal(Sfiligoi Link)
– Fully upgradeable and changeable CREE LED strips
– Genesis can be tank mounted on bracket/clamp or suspended with hanging kit